Paolo Di Canio on hand of Suarez, paying for players and tiramisu
Last updated on .From the section Football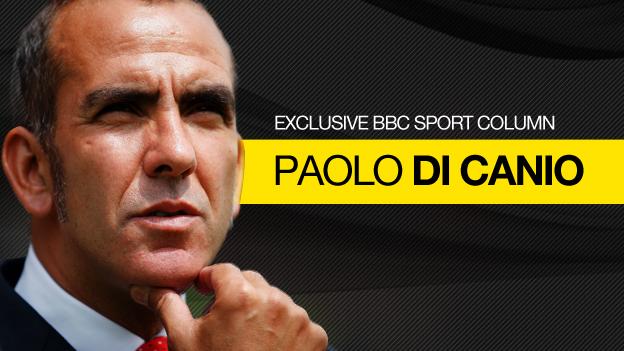 Swindon manager Paolo Di Canio, one of football's most controversial and colourful characters, gives his views in his latest column for BBC Sport.
Sportsmanship is a dying art
For me, a player has to be genuine at all times. If, after one second, a player realised what he had done was dishonest, then he should tell the referee. It is not fair to take advantage of such a situation.
So if Suarez did it intentionally and realised he was wrong, then in my opinion he should have confessed. But we are all different.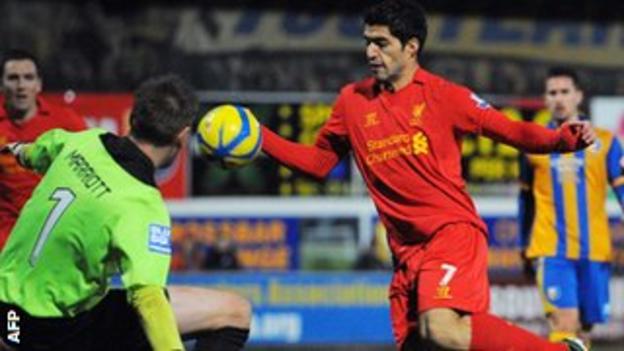 Would I act if one of my players did something that was seen as bad sportsmanship? It depends on the seriousness of the situation, but obviously if it is something really wrong and is far from the idea of good sportsmanship, I would consider taking action.
I won the Fifa Fair Play award in 2001 when I decided to catch the ball rather than shoot while then Everton goalkeeper Paul Gerrard was injured, but sadly I don't think we will see that kind of act often in the future.
It seems to me that the new generation has grown up with the idea that you are intelligent and more clever than others if you benefit from a bad action or situation. You see it on reality television shows, where some people become famous just for acting in a bad way.
In football, we are seeing more players diving at minimal contact. Of course, not every player is dishonest, but I don't think we will see many acts of good sportsmanship in the future. Maybe when a team is winning 3-0 and players do it to receive praise, but otherwise I cannot see it.
Less money, more glory
Last weekend, I said I would use my money to keep players at Swindon. I was very serious when I said that. If using my own money helps Swindon achieve promotion, then it is something I will do.
Money has never been a priority for me. Obviously, I still need to be paid, but it is more important for me to live my life with a bit less money and have more glory. This is my view in football and also in life.
Anything I can do to achieve this I will do.
Already this season I donated my image rights to Villa Stuart - a sport clinic in Rome that is one of the best in Europe - in exchange for free treatment and rehabilitation for my injured players.
We only pay for the surgery, but the use of expertise, machinery and accommodation is all free and all thanks to Paolo Di Canio.
I do this because I want success for myself and my players, so I don't mind having a little less money to do this.
I would feel ashamed to know that something could be achieved if I invest some money, but I didn't.
Football can be greedy. That is typical in an industry where there is a chance to make lots of money.
But I would rather be paid one pound to manage a team that has a good plan to achieve success than be paid lots of money to manage a club where the team and plan is not very good.
I have to confess, though, I have not always been like this.
When I was a boy, I stole my brother's bike and sold it to buy some pick-and-mix sweets for me and my friend. I did share the sweets, so it was one bad action and one good action.
Barthez tried to confuse me
I would love to see West Ham get a result at Manchester United in their FA Cup replay on Wednesday because it would be great to see their fans celebrating at Old Trafford again.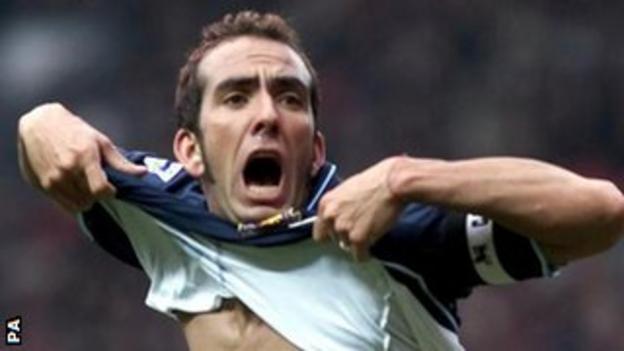 The game will bring back very good memories for me because I scored the winning goal there for West Ham, also in the FA Cup in 2001, when Manchester United goalkeeper Fabien Barthez stood with his hand in the air, claiming I was offside.
He tried to stop me and confuse me by putting his hand up like directors do in theatre when actors are auditioning, but my view in life is always to act first, then discuss the consequences.
I brought this into my football career, so my only thought at the time was to put the ball in the net and then check what the linesman was doing.
One of my team-mates in that game was Joe Cole, and I am delighted to see he has gone back to West Ham.
I played alongside Roberto Baggio. For me, Cole was as good as him at 16. He was an amazing talent and the fact he did very well at West Ham and moved to Chelsea proved that he was a very good player.
He was one of the most talented players at West Ham and the fact his development was while Paolo Di Canio was there I am sure helped him.
He will probably say it didn't, but a lot of young players, like Michael Carrick for instance, have said that Paolo Di Canio helped them, so I am happy to think that in their achievements there is a little bit of Paolo Di Canio in them.
Paolo cooks the best
I like tradition in England, so on Christmas Day I tried to mix a traditional turkey dinner with Italian food. I cooked a roast, which was beautiful, and also a Tiramisu, which I make a lot because it is the best. I tried not to eat too much, though, because I am on a diet.
Before Christmas, I also went to Stonehenge for the winter solstice. Swindon had just beaten Tranmere 5-0 and I waited until 4am before going there to see the sunrise. It was raining and I didn't see anything, so I left and went straight to training.
Paolo Di Canio was speaking to BBC Sport's Gary Rose.