Football League Friday: Terry Skiverton stands by his man
By Caroline Chapman
BBC West Sport
Last updated on .From the section Football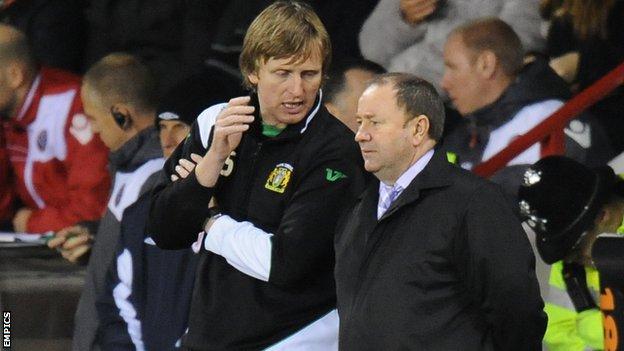 Terry Skiverton was prepared for the worst when he received a phone call last January from the board at Yeovil Town.
The under-fire Glovers manager had won just five games all season and his side were languishing in 21st in League One. At the time you would have got decent odds on him being the next man to hop aboard the managerial merry-go-round.
But instead of ending Skiverton's 12-year association with the club, which included 366 appearances as a player, chairman John Fry offered him an olive branch, in the form of ex-manager Gary Johnson - the man responsible for transforming Yeovil from non-league minnows to a sustainable third-tier outfit.
The deal on the table would see Johnson return as manager and Skiverton, his former captain, take a step down to becomes his assistant.
"We went through a list of possibilities and what came from the chairman was that he wanted me to go and sit down with Gary," Skiverton, 37, told BBC West Sport.
"We went to a hotel in Taunton and we must have been there for six or seven hours. We talked about our philosophies, the way he wanted to move forward and he said 'I think this will work, but I really need you to buy in to it'."
Johnson, now 57, was idolised by the Glovers faithful in his first stint as manager. After taking over in 2001, he lead them to promotion to the Football League the following season and in just four years they had been crowned League Two champions.
Although he departed for near-rivals Bristol City in 2005, he had history on his side, and there was no doubt Johnson would have been welcomed back to Huish Park with open arms.
But for Skiverton, who had been handed the job following Russell Slade's departure, it was a far more torturous decision.
Given that he was effectively being demoted, should he walk away or stay and stand in the shadow of Yeovil's saviour?
"If it had been anyone else I would have walked away," he admits.
"He said to me: 'if you're not up for this then I won't come. I'll only come if you're going to stay.' When I heard those sort of words, I knew there was a role here for me.
"It was tough at first and pride kicked in a little bit, but we got over that from the first meeting we had. He's the gaffer and I'm his assistant and we work really closely together.
"You can't walk away just because of pride. I'm here to leave a legacy with someone who was a real figurehead for the football club."
As manager and skipper, the duo were part of the club's most successful spell - bringing in the Conference and League Two titles as well as the FA Trophy.
And as a management team, they are going someway to recapturing those halcyon days and justifying Skiverton's loyalty.
They finished safely in 17th last season - nine points off the drop zone - and currently sit three points off the play-off places in a bunched-up League One.
Behind the scenes, the club have moved to stop the sharp decline in attendances at Huish Park by creating several new initiatives - free bus travel to their Johnstone's Paint Trophy away game at Leyton Orient proving most successful - and all their campaigns are fronted by Johnson, with Skiverton taking a back-seat in proceedings.
"This is the way I envisaged it the first time round, in me working for the gaffer," he added.
"Now the manager's come back it feels like the old times, and he's trying to make sure we get there. He's not happy with where we are. He wants to push us further and I'm right in that boat, making sure I'm right beside him."
In what should have been an awkward and demeaning demotion, Skiverton has gone someway to answering his critics by turning the situation on its head.
"You get some assistants who don't know what it's like [to be a manager] - I've walked a mile in his shoes and I know what he's going through," he said.
"Some people may have questioned my motives early on, but those people don't understand what it's like to do so much and achieve so much at one football club.
"I'm a club man and I'll put the club first. If I've got take a step back for the greater good of this club then I'll do it."
BBC Sport will be taking a closer look at stories from outside the Premier League before every weekend league programme in our Football League Friday features.