Brian Greenhoff: England defender reveals struggle with weight issues
Last updated on .From the section Football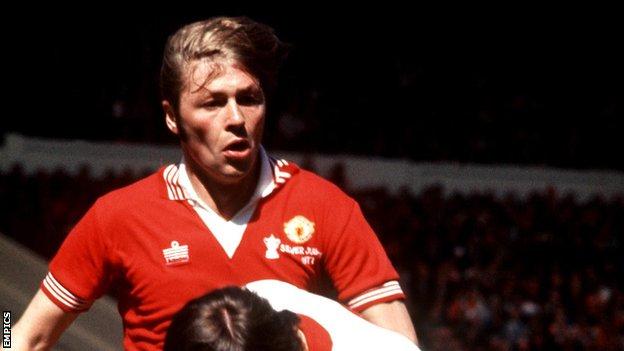 Former Manchester United, Leeds and England defender Brian Greenhoff has revealed that weight issues affected him during his playing career.
"I put my fingers down my throat a few times," admitted Greenhoff.
"I wanted to be the right weight. I didn't want to be overweight."
Greenhoff, now 59, was a member of Manchester United's 1977 FA Cup-winning team, won 18 England caps and later played for and managed Rochdale.
He had weight problems early in his career, which resurfaced when he moved to Elland Road in 1979.
Greenhoff continued: "I still enjoyed my weekends - that was the time I used to let my hair down because I'd worked hard for it.
"At Leeds, they used to weigh us on a Monday morning. I'd have weighed the players on a Friday, because if you're half a stone overweight on a Friday, you wouldn't be playing on the Saturday.
"We didn't have dieticians in our day.
"I always ate before a match. I used to have to tea, toast and jam.
"Some of the other lads were getting stuck into steaks and I couldn't do that. I was frightened it might put a pound on me.
"I've had a rough time but it's something that I've put behind me now."
Hear Ian Cheeseman's extended interview with Brian Greenhoff on Saturday, 19 January from 18:00 GMT and online for the subsequent seven days at bbc.co.uk/radiomanchester.