Frank Lampard: Chelsea stance is about business not emotion
Last updated on .From the section Football545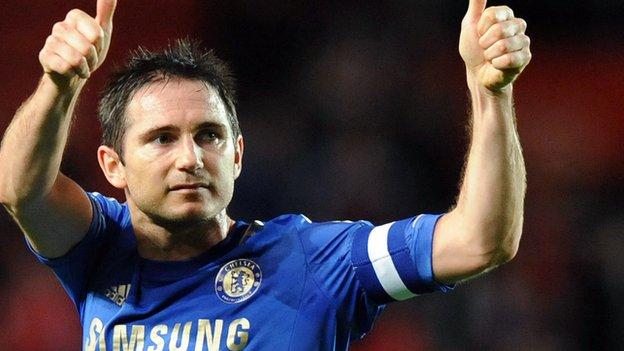 There are few footballers who have polarised opinion quite like Frank Lampard.
Introduce the midfield player's name into a conversation and then sit back and watch. Some will talk of his relentless goals from midfield, his work-rate, his range of passing, his stamina and his presence.
Others will chime in saying he is overweight, overrated and ponderous and gloss over a career littered with personal milestones and records, as well as almost every trophy a club footballer is able to win.
Conversations such as these have taken place all across the land in the past week, since it became clear that Chelsea do not plan to offer Lampard an extension to his contract which expires in June.
No discussions over a new deal have taken place, none are planned. Chelsea have explained their reasons to Lampard's camp, with the player turning 35 in February and on £150,000 per week.
The decision, like the player himself, has divided opinion. Every goal he scores in the interim is adding fuel to the fire of those fighting his corner and piquing the interest of many others. Manchester United boss Sir Alex Ferguson, a long-standing and well-publicised admirer, is considering making a move in the summer.
There is also interest from a number of leading clubs in Europe, while his agent spent the past week in the United States, with Los Angeles Galaxy understood to be keen to push for a deal for Lampard.
But Chelsea are determined to trim their £191m wage bill with Uefa financial fair play rules looming on the horizon, and that has coincided with an opportunity to say goodbye to the established order.
Lampard has made 576 appearances for Chelsea and equalled Kerry Dixon's record as the club's second-highest goalscorer, with 193 goals, thanks to his penalty against Southampton on Saturday.
"From the outside it looks like an outrageous decision," former Chelsea striker Tony Cascarino said.
"He is still playing well, scoring goals, he is 34 but he is still a top international. How many players can get goals from midfield on a regular basis in the way Lampard does?
"But from a Chelsea perspective this is purely about business and you have to respect that. Top clubs in Europe have done it for years. Marseille told me at 35 my time was up. I had two fantastic years and I went to the club to talk about an extra year and they told me they were buying someone else.
"I was heartbroken. I felt I had done so much and yet they were prepared to let me go - and I achieved nothing compared to what Frank has done during his time at Chelsea.
"It hurts. You feel like you are part of the club, the establishment. We have egos, big ones. We like them to be massaged and Frank will be feeling rejection by the football club. But in time Frank will realise that a particular club is run in a very particular way and he may even respect that."
Lampard has been here before, of course. His Chelsea obituary has been drafted on at least two previous occasions. In 2008 he came within days of joining Inter Milan having become disillusioned under Luis Felipe-Scolari. The other occasion came 12 months ago, with Andre Villas-Boas not picking him it seemed as if time might finally catch up with one of the game's great endurance men.
The nadir came on 21 February 2011 when Villas-Boas left Lampard out of the team for the first leg of Chelsea's Champions League round-of-16 tie away to Napoli. Eleven days later, Villas-Boas was sacked and Lampard's - and the team's - outlook improved quickly under Roberto Di Matteo.
With John Terry suspended, Lampard captained Chelsea to a famous Champions League victory in the Allianz Arena, Munich. It was a fairytale story.
"A year down the line we could be looking back and saying Chelsea made a mistake," Cascarino added. "I don't question his quality, because there just aren't many midfielders in the world who can score the amount of goals he has - headers, volleys, 20-yarders - he has a fantastic array of weapons.
"There will be a lot of interest in Frank and he could have up to three years left in the game because he doesn't rely on his pace. I played with Glenn Hoddle and thinking 'how good is this guy?' He wasn't quick, he didn't have a turn of pace, but his ability on the ball, awareness and vision never faded.
"He played until 39 but could have gone on for a few more years. I look at Frank and he has all those qualities still intact."
Few players have dedicated themselves as tirelessly to self-improvement. Seeing that he lacked the natural talent of many of his contemporaries as a teenager, he dedicated himself to putting in the hours on the training field, the extra miles on the road, long after his friends had gone home.
As a young man he drove himself to become more than the sum of his parts, working to improve what he thought were moderate technical and physical attributes into a top-class footballer. There were more than a few raised eyebrows when Chelsea paid £11m for him in 2001. But it didn't take long for him to become one of the most feared and consistent goalscoring midfielders in the Premier League - he has since scored 15 or more goals eight out of the past nine seasons.
"Frank will be remembered as a legend of the club, a fantastic servant," Cascarino added.
"He has been a model professional. It feels harsh but even if this is to be the end for him at Chelsea, he has left an incredible legacy of success."
Every goal Lampard scores from now until the day he leaves will stoke up the debate, especially if he overhauls Bobby Tambling's club record of 202.
There have been difficult moments, both professionally and personally - the vital penalty he scored in his first game back after the death of his mother, Pat, from pneumonia in 2008 was a moment of exquisite bravery and provided an insight into Lampard's iron will.
And while the end with Chelsea may be approaching, a new chapter, and a new challenge, beckons for a man who has always had something to prove.