Liverpool: There's no bigger club in Premier League - Sturridge
Last updated on .From the section Football1480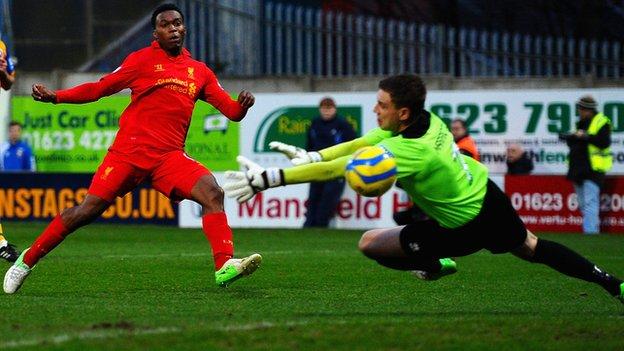 Liverpool's Daniel Sturridge says there is no bigger club than Liverpool in the Premier League, ahead of Sunday's game against Manchester United.
"It is the biggest club I have ever played for," Sturridge told Liverpool's official website.
"In the Premier League, there is no bigger club than Liverpool."
Liverpool and United are the two most decorated clubs in the top flight.
In terms of league titles, United have 19 compared to Liverpool's 18, while the Merseysiders have five European Cup wins to the Old Trafford side's three.
Sturridge scored on his Liverpool debut as his new side beat Mansfield in the FA Cup and is grateful to Reds boss Brendan Rodgers for signing him.
"I thank the boss for giving me an opportunity to play for a club like this and I thank God for making it possible," added Sturridge.
"For the manager to pay money for me and to have faith in me and show everybody around the world that he is prepared to take a chance on me, I don't think I'll ever be able to repay him for that.
"As a young player, when you play for big clubs you can sometimes get caught up in it and you never get another opportunity to play for another big club.
"So I'm grateful the manager has given me this chance and that he believes in me. I'm just glad to be here."