Scott Loach 'leaner' in bid to become first-choice Ipswich keeper
Last updated on .From the section Football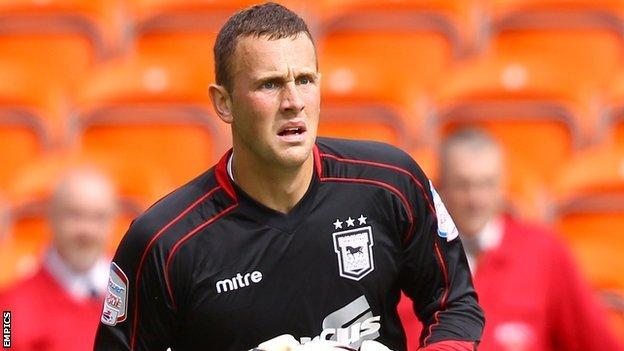 Ipswich Town keeper Scott Loach believes improving his fitness has boosted his chances of reclaiming the number one shirt.
The 24-year-old made his first start since early October in Saturday's
"I feel the extra work I've been doing has made me leaner and sharper, which allows me to make the saves.
"That's my job, I'm a goalkeeper, if I don't make the saves then I don't have a job," he told BBC Radio Suffolk.
A summer signing from Watford, Loach started the campaign as Town's first-choice keeper, but was knocked down the pecking order by the arrival of Stephen Henderson on loan from West Ham.
Henderson endured three consecutive defeats in his first three games, as well as 5-0 and 6-0 hammerings by Crystal Palace and Leicester respectively, but kept his place and Ipswich have lost just two of the last nine games he has played in.
However, Henderson's loan ends on Saturday and former England Under-21 international Loach, who left Watford after spending the final third of last season as number two to Tomasz Kuszczak, was handed a chance in the 2-1 loss to Villa.
"I've got to give full credit to Hendo because we had a few heavy defeats and he's reacted well to that and we've gone on a bit of a run," he said.
"I got a taste of it last year with Kuszczak. I've got to remember I'm 24 and I've played over 200 games, so I'm very lucky.
"But I want to be playing. Hopefully I've put a statement down and when Hendo goes back, I can say I deserve to be in this team.
"I've learned a lot over the last few years through being in and out and I want to stamp my authority down. I've got that number one shirt and I want to be number one for a reason."