Sepp Blatter praises Boateng but says walk-offs are no solution
Last updated on .From the section Football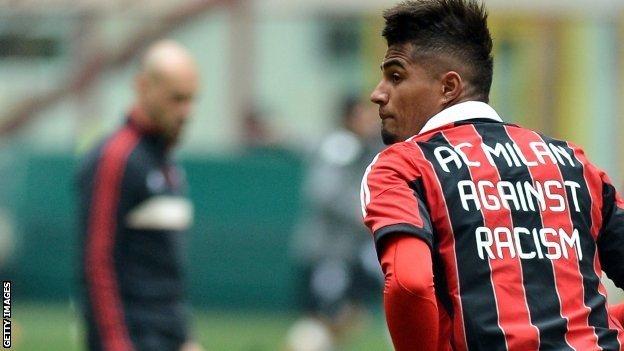 Fifa president Sepp Blatter says AC Milan midfielder Kevin-Prince Boateng's walk-off after suffering racist abuse was "strong and courageous" but not the answer to the problem.
Blatter initially said the player's actions were not the solution and was criticised for his remarks.
"That is praiseworthy but it cannot be the long-term solution," said Blatter.
"We have to find other sustainable solutions to tackle racism and discrimination at its roots otherwise, such stands will be made in isolation and lost in the heat of general polemic."
While Blatter stood by his stance against abandoning games in terms of combating the problem of racism in a broader sense, he did praise Boateng and the message the player sent out.
Boateng, who was backed by club president Silvio Berlusconi, picked up the ball and kicked it into the crowd before walking off and says he would do it again if faced with a similar scenario.
"A way of saying: this has gone this far, but it goes no further," said Blatter. "Football must not separate people. Football brings people together."