Aaron Ramsey could benefit from loan spell, says John Hartson
Last updated on .From the section Football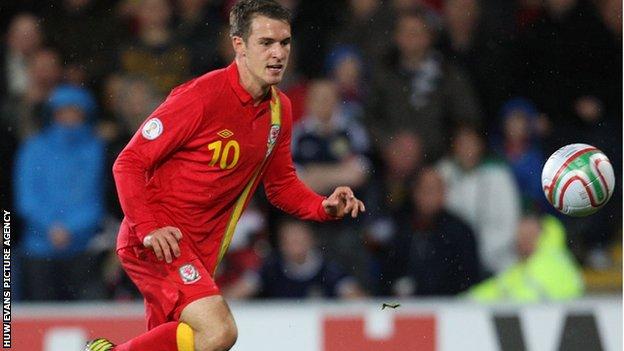 Wales assistant manager John Hartson says Aaron Ramsey could benefit from a period on loan away from Arsenal.
Hartson says the Gunners' midfielder has struggled for form while being selected on the wing by Arsene Wenger.
"I just think he [Ramsey] needs that run of games," said Hartson.
"Maybe if he did go out on loan [he'd get that], because he doesn't seem to start many games at Arsenal now and when he does start he's brought off and he doesn't look happy."
Former Wales captain Ramsey, 22, was regarded as one of the brightest young midfield talents in Britain before suffering a broken leg against Stoke City in February 2010.
Following his return in November the same year, the Caerphilly-born midfielder had loan spells with Nottingham Forest and Cardiff City, before settling back in at The Emirates.
Hartson believes Ramsey's form has failed to hit the heights of his pre-injury career, but the player was rewarded last month when he signed a new five-year contract at Arsenal.
Former Gunners striker Hartson sees that as a positive sign for Ramsey's future.
"I'm sure Arsene Wenger knows he's a top-drawer player, because he wouldn't have given him a new deal otherwise," he said.
"I don't want to keep going on about it because I'm sure he [Ramsey] is fed up of people talking about his injury.
"He's been back now I think it's about a year-and-a-half fit again and it's just where his best position is because for us with Wales he's central midfield.
"I don't think playing on the left, wide left, is his position. [Against Swansea on Sunday] he looked lost at times.
"He did some very good things in the game but obviously Arsene Wenger didn't think it was his greatest performance because he took him off."
Hartson, who played 54 times for Arsenal between 1995 and 1997, believes Ramsey's biggest challenge is reasserting himself in a talented Arsenal midfield.
"With Arsenal you look at their midfield. [Mikel] Arteta, [Jack] Wilshere, [Theo] Walcott, [Santi] Cazorla, [Alex] Oxlade-Chamberlain, they've got some really, really gifted players in the midfield," said Hartson.
"So it's up to Aaron to put in the performances week-in, week-out and on the training ground."
"I just don't think he's quite hit the heights in terms of where he was before he got injured, but he will, I'm sure he will.
"He needs to play play with a smile on his face, get back to enjoying football. It just seems as if there's something holding him back at the minute."