Matt Bloomfield column: Semi-final will give Bradford adrenaline rush

By Matt Bloomfield
Wycombe Wanderers midfielder
Last updated on .From the section Football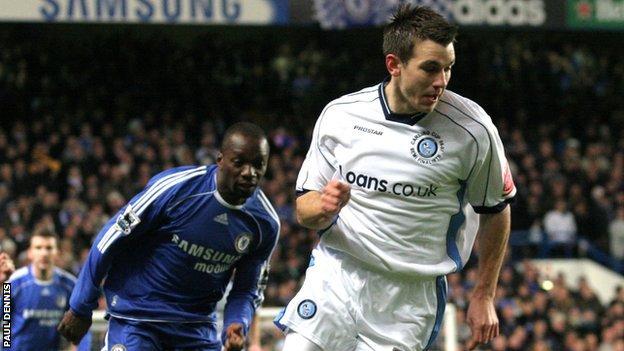 Bradford City's players will wake up on Tuesday morning full of excitement and anticipation ahead of the first leg of their semi-final tie in the Capital One Cup against Aston Villa.
They will spend the day trying to relax, but basically will be just counting down the hours until it's time to go to the ground for the game.
It was six years ago that my Wycombe Wanderers side were the last League Two team to reach the semi-finals and played against Chelsea in what was then the Carling Cup.
Ironically, our manager was Paul Lambert, who finds himself on the other side of the fence this time, with his Villa side heavy favourites.
It's a season that I look back on with fantastic memories. A cup run like that at a club of our size stays with you for a long time.
The games themselves just flew by. The buzz and adrenaline that you get from playing on such a stage was amazing.
On occasions like that you can just sense the difference.
When you arrive at the ground there is something in the air. The lads fidget with nervous energy, no one can stay still. You cannot replicate it.
Bradford are a big club who have been underachieving by spending so long in League Two. The attendance and atmosphere at Valley Parade makes it a place that I always look forward to playing at.
Phil Parkinson has done a fantastic job at Bradford this season. He has accumulated a strong, experienced squad who will be in the promotion mix at the end of the season.
However, it will be a big test for his squad to deal with the league games in between the two legs of the semi-final.
The whole build up, the occasion of a semi-final, the match being on TV and everything surrounding it will make it very tiring for the Bradford players.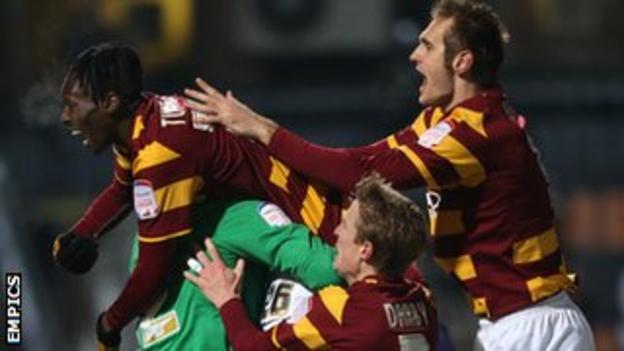 I know it shouldn't be hard to motivate yourself for a league game and it isn't, but the fatigue, both mental and physical that comes from possibly the biggest occasion of the Bradford players' careers, will make it tough.
It's almost an adrenaline hangover.
They might have to rotate their squad a little bit and that will be a good test for them. It's never easy to maintain league form while competing in such a high-profile cup run.
In our tie against Chelsea, we approached the first game as a one-off - give it our best against a team full of world stars and see how we get on.
To get a 1-1 draw was amazing, better than anyone expected for us and to lose 4-0 at Stamford Bridge was no disgrace either.
This is why I feel that over 90 minutes, Bradford have a chance of causing an upset, but over two legs it's going to be tough for them. In 180 minutes of football, Villa's extra quality should show through.
Paul Lambert is someone who I have the utmost respect for. He was fantastic for my development as a footballer and I am not surprised that he has done so well since leaving Wycombe.
There is no doubt in my mind that he will turn Villa's fortunes around.
For Bradford's players, I hope they embrace the occasion. Valley Parade will be bouncing, and whatever the outcome it's certainly a game they will remember for a long time.