Mansfield v Liverpool tie shows why FA Cup still holds its magic

By Phil McNulty
Chief football writer
Last updated on .From the section Football654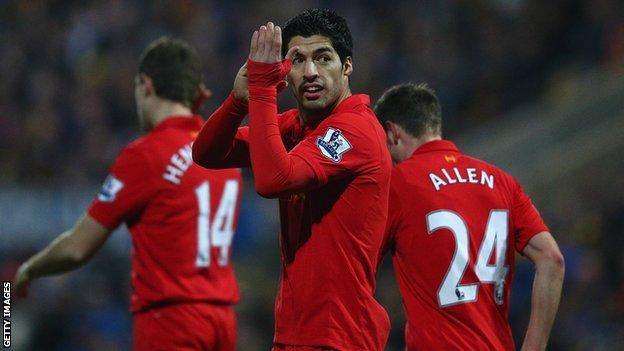 The FA Cup may not have given Mansfield Town manager Paul Cox an all-expenses paid honeymoon - but he was presented with a lifetime of memories within 90 minutes at Field Mill.
Cox bought into the traditional romance of this great competition with his marriage to new wife Natasha on Friday, with an opportunist sponsor offering a honeymoon in exchange for the Blue Square Bet Premier side delivering a victory against Premier League giants Liverpool.
On an occasion that did both Mansfield Town and the FA Cup great credit, it was bitter-sweet reality rather than romance Cox was reflecting on after Liverpool's 2-1 win.
Cox had the pride of watching Mansfield, lying ninth in their tier, give Liverpool plenty of anxiety in an enthralling second half only to suffer the pain of seeing defeat ultimately inflicted by the hand of Luis Suarez.
If you go to the Uruguayan looking for the romance of the cup you have come to the wrong place. He does not do romance when it comes to football and this was no different.
This lightning conductor for controversy was at the centre of the action again, even though he was kept back as a substitute to allow Daniel Sturridge to make his debut after a £12m move from Chelsea.
Sturridge gave a glimpse of his promise with an early goal but such was the extent to which Mansfield rattled Liverpool at the start of the second half that Suarez was swiftly introduced in place of the new boy to literally give manager Brendan Rodgers a helping hand into the fourth round.
Suarez clearly handled before scoring the crucial second goal - but the notion expressed by some that he should have owned up to the offence as some sort of attempt to apply PR gloss to his somewhat villainous image was not plucked from the real world.
It was the job of Andre Marriner and the officials to adjudicate, not Suarez, and they decided the goal should stand. Cruel on Mansfield but subsequent criticism of Suarez was surely misplaced. Would other strikers do the same? Would defenders own up to fouling strikers in the area?
It was also suggested Suarez had revelled in his escape by kissing his hand in celebration. A point spectacularly missed here as this is his traditional response to scoring.
Matt Green set up a rip-roaring finish with a goal for Mansfield but manager Cox graciously refused to criticise Suarez as he accepted he would have taken the goal in identical circumstance.
In a weekend where the continuing lustre of the FA Cup has again been questioned amid the search for lowered attendances and weakened teams, this was a game and a day to reassure those of us on the hunt for evidence that this wonderful tournament is alive and well.
Mansfield entered fully into the spirit by making life difficult for Liverpool on the pitch but welcoming them warmly off it. The Stags left 96 seats empty as a mark of respect to the victims of the Hillsborough disaster, while also playing "You'll Never Walk Alone" before kick-off.
It was a day for Mansfield to take full advantage of their added profile. The cynics even suggested Sir Alex Ferguson might like to adopt their somewhat novel idea of having the stoppage time at the end of both halves sponsored.
The pitch may not have been one of the bowling greens Liverpool are used to in the Premier League but it was hardly The Baseball Ground gluepot circa 1970 and its condition was helped by a mascot dressed as a giant stag even doing some half-time gardening.
Mansfield may not have enjoyed the magic of victory but there was no doubt they felt good about themselves after the final whistle and rightly so. Do not tell them that the FA Cup no longer possesses that something special.
Do not tell Macclesfield after their win against Cardiff City. Do not tell Luton Town after they beat Wolves. And do not tell Cheltenham as they prepare to face Everton on Monday evening.
The relish and pride in which this whole day was conducted by Mansfield on the field and off was enough to sweep away some of the cynicism that now surrounds the FA Cup.
Indeed, it appears its continued relevance is not lost on those at the top end of the Premier League either as the weakened teams of past years did not seem so weak this time around.
Paul Cox may now have to pay for his own honeymoon but the FA Cup third round visit of Premier League Liverpool to Field Mill provided the sort of football emotion money cannot buy.