Sepp Blatter says AC Milan wrong to walk off in face of racism
Last updated on .From the section Football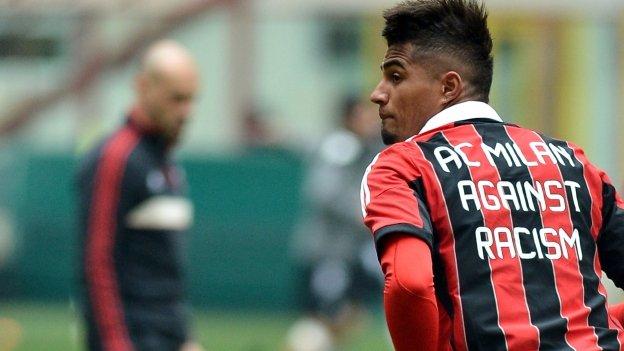 Fifa president Sepp Blatter says that players should not leave the field of play if they are faced with racism.
AC Milan players walked off during a friendly on Thursday after Ghana international Kevin-Prince Boateng was subjected to racist abuse from fans of fellow Italian side Pro Patria.
But Fifa president Sepp Blatter said: "Walk off? That's not the solution."
AC Milan's players carried anti-racism messages on their shirts prior to Sunday's match against Siena.
Blatter continued: "I don't think you can run away, because eventually you can run away if you lose a match."
"This is a very touchy subject, but there is zero tolerance of racism in the stadium," Blatter was reported to have said in the Abu Dhabi-based publication The National.
The 76-year-old Swiss, who has been the head of world football's governing body since 1998, said there needed to be tougher punishments brought in, such as points deductions in order to deal with the issue of racism.
"The only solution is to be very harsh with the sanctions - and the sanctions must be a deduction of points or something similar."
Former Tottenham and Portsmouth player Boateng picked up the match-ball midway through the first half of the friendly and kicked it towards the crowd after reacting to the abuse from a section of the fans.
The midfielder then removed his shirt and left the pitch with both sets of players and officials.
The Italian Football Federation (FIGC) has announced an immediate inquiry.
The Football Association's Alex Horne said referees should ultimately be the sole person deciding what action to take if there are instances of racist abuse during a match.
"If players are receiving sustained abuse on the pitch they should be reporting it to the referee," he told BBC radio 5 live's Sportsweek programme.
"The players, through the captain, should be reporting it to the referee. The referee should be taking the players off the pitch and warning the crowds that they should desist with their abuse, and ultimately there's a sanction there if the fans don't listen to that.
"If the players feel the referee isn't dealing with it then I can understand why they walk off the pitch. Why should you have to tolerate that in this day and age?"
In June, Uefa president Michel Platini said that any players who walked off the pitch at Euro 2012 because of racist abuse would be booked.