Oxford United chairman Ian Lenagan still expects joint bid
Last updated on .From the section Football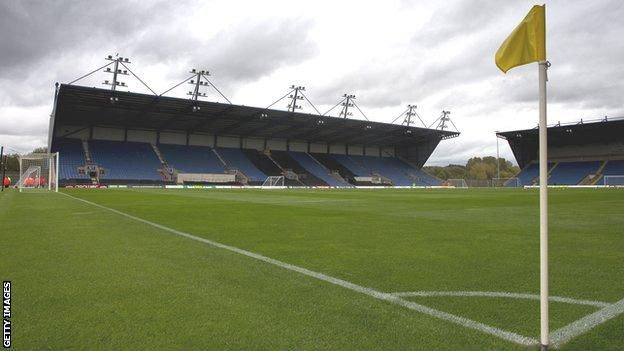 Oxford United chairman Ian Lenagan says a joint-bid to buy the ground with London Welsh is still possible but has admitted the stadium's owner Firoz Kassam is difficult to deal with.
On Friday, Exiles vice-chairman John Taylor revealed they had been in talks with Kassam to buy the stadium, although this was later denied by both parties.
"I view the whole issue of the stadium as something that is quite difficult," Lenagan told BBC Radio Oxford.
"Mr Kassam is not easy to deal with."
He continued: "We've been talking to him on or off for four or five years about possibly purchasing the stadium, the price, the terms and the rest of it without any great success so far.
"Obviously he wants the highest price he can get and we want to pay what is a reasonable price."
Welsh, who are in their first season in the Premiership, only moved to Oxford in the summer because their Old Deer Park home was too small for the top flight.
They had been expected to launch a joint-bid to buy the stadium with Oxford United, but Taylor added they were looking for funding and had spoken to some major investors in Wales that are keen to help finance the purchase of the stadium, which opened in 2001.
But the club later denied they had started negotiations with Kassam, saying Taylor's comments were "incorrect".
Kassam, who was chairman for seven years before selling the club in March 2006, also issued a statement on Friday denying talks with London Welsh, but revealed Oxford United no longer had first refusal on the stadium - which he still owns through his firm Firoka.
And Lenagan says he still hopes to launch a joint-bid with the Premiership newcomers for the ground - an idea that was first mooted six months ago.
"I wish London Welsh, if they were involved in solo discussions with him, the best because he is quite difficult to get the right deal from," added Lenagan.
"But I would be very surprised if London Welsh did not come back and talk to Oxford United if they have had any serious short-term moves afoot in terms of buying the stadium."