Middlesbrough v Hastings: Sean Ray says Arrows will attack
Last updated on .From the section Football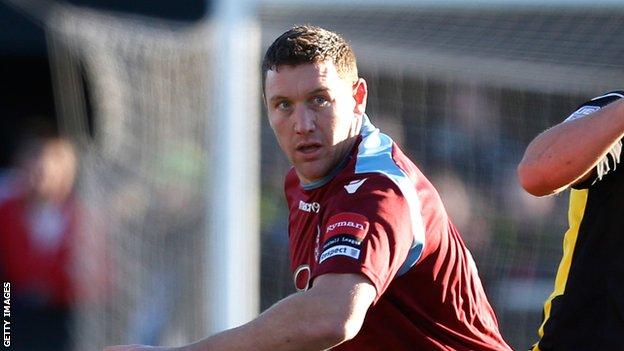 Hastings United player-manager Sean Ray wants his side to "go for broke" in their FA Cup tie at Middlesbrough.
There are 131 league places between the Arrows and their third-round opponents.
"If we are going to lose a game 2-0 or 3-0 by sitting back and not getting out of our half, nobody is going to remember that.
"I'd rather lose 5-2 or 6-2 knowing that we have had a go, got a couple of goals and given our fans something to remember," Ray told BBC Sussex.
"We will go up there and play to our strengths. We will not go out there and sit back."
The Isthmian League Premier Division side came through the qualifying rounds - their run beginning with a 3-1 win over Chatham Town at Pilot Field, their home ground, in early September - to reach the third round for the first time in the club's history.
Having not seen the team win an FA Cup tie for five seasons, Hastings chairman Dave Walters is relishing their moment in the spotlight.
"It's been a frantic couple of months," Walters told BBC South East Today.
"Since the fourth qualifying round I just feel like my feet haven't touched the ground.
"We're not used to the attention. Normally we go under the radar in Hastings, let alone the football world generally.
"It has been incredible and fantastic."
He added: "For a club of our size, our FA Cup journey each year normally lasts 90 minutes, give or take a few minutes of injury time.
"This year, it's been four months, which is incredible.
"Whoever wins the competition will not have won more games in the Cup than we have.
"We've already won six games and this will be our ninth. It was been a wonderful experience."
Hastings have drawn their last six games and are unbeaten in their last 12 games in all competitions.
The Middlesbrough game will be the East Sussex club's ninth in this season's competition and the first time they have faced a Football League side in their run.
Ray is hoping his players will be able to keep their heads at the Riverside Stadium.
"We've got to treat it as just another game," the 31-year-old defender said.
"I don't think the players will need a team talk. They know how huge the game is.
"They just need to be able to concentrate on their own games and get clear in their minds what they want to go and achieve on the day.
"The onus is on Middlesbrough to come at us and score four, five or six goals against us, like everyone is expecting them to do.
"We go out there nice and relaxed to play our game. We've got nothing to fear and nothing to lose.
"The one thing we have got to do is believe. The longer we are in the game the more frustrated they will be."
Victory for Hastings would be a shock to rival Hereford United's defeat of Newcastle United in the third round in 1971-72 season or Sutton's 2-1 win over Coventry in 1989.
And Walters insisted: "We are not going up there to make up the numbers.
"History is not littered with big Cup upsets, but they do happen from time to time. If we won up there it would be one of, if not the greatest, FA Cup upset of all time involving a non-league club.
"Hereford were a top-level non-league club when they beat Newcastle in the 1970s.
"We are level three. The gap between us and Middlesbrough is that much greater.
"Ricky George, who got the winner for Hereford that day, used to play for Hastings United.
"I'm taking that as a good omen we can get a result on Saturday."