Keith Southern demands Huddersfield Town response
Last updated on .From the section Football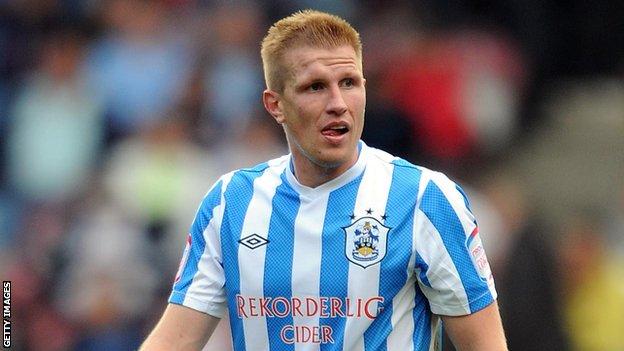 Keith Southern has warned Huddersfield Town's faltering form means their season is at a critical stage.
Midfielder Southern told BBC Radio Leeds a response in Saturday's FA Cup tie at Charlton Athletic is vital.
The 31-year-old said: "It doesn't matter it's the Cup, we need to win, scrappily if we have to, because confidence is a little bit low."
Southern, signed by manager Simon Grayson from Blackpool in pre-season, said it was hard to explain why Town, who earlier in the season reached second place in the Championship table, had lost form.
"A lot of teams in this division are looking for consistency, they will have periods when they can't buy a win, and we're going through that at the moment.
"We're at a critical stage of the season where things could go either way. If we keep putting in performances like we did against Leicester we'll be relegated, it's as simple as that," he continued.
"I don't know about the other lads but I haven't had much sleep thinking about it. It's your profession, it's your livelihood, and if you have any pride or self-respect it's going to hurt you.
"After a heavy defeat you soul-search, you look at yourself first and foremost, or I do anyway. There's been some harsh words said, and we needed that, you can't hide the fact we've been done 6-1."
Southern said they were losing games because not enough players were winning personal battles against opposing teams.
"I see character in a lot of our players, I think some have got to show it a little bit more, but there is a core of players who are hurting and (there is) a good character and background to this football club, not just this season but that has been there for a long time, and hopefully we can rely on that," he added.