Joe Cole: West Ham is where the heart is for England midfielder
Last updated on .From the section Football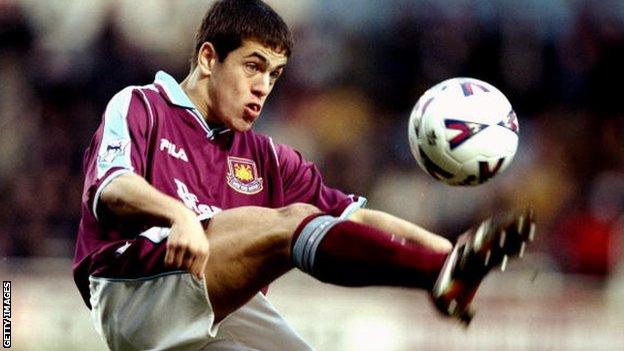 It has taken Joe Cole the best part of a decade to discover there is no place like home.
The decision to rejoin West Ham, the club where he developed into one of the world's most highly-rated teenagers, completes a circle, even if Cole himself had not foreseen making the nostalgia trip out of necessity, rather than choice.
Having left east London in 2003 as a fresh-faced box of tricks, Cole returns with everything to prove, having failed to flourish at clubs where the intense pressure to get results has been coupled with a distinct lack of long-term stability.
There will already be a sense of relief that the mutual misery that engulfed his time in Liverpool is finally at an end.
But the frustration dates back further still, having never felt highly rated by Jose Mourinho at Chelsea and with a string of managers unwilling to use him in what he still regards as his best position - a playmaker, in the "hole" behind the striker.
The memories of those illuminating early days in a career that promised so much, grow more and more distant, having found himself working under managers who concluded that he lacked the creative wherewithal to be the attacking fulcrum of their teams and the ability to dictate how the attack developed, rather than follow the ball like an eager puppy.
Mourinho, Avram Grant, Guus Hiddink, Carlo Ancelotti, Fabio Capello, Roy Hodgson, Kenny Dalglish and now Brendan Rodgers have felt unable to indulge Cole, to build a team around him in the way West Ham entrusted him as a teenager.
"Joe is going back home," the former Manchester United and England striker Andrew Cole told BBC Sport.
"He had a great career at West Ham before he moved on to Chelsea and he is a local boy. It is so important to feel wanted.
"If your manager believes in you and your team-mates believe in you, you will play with confidence. If you believe you aren't wanted, you feel like a spare part. Going back to West Ham could be a key moment."
Few predicted what lay ahead, when Cole signed for Liverpool in July 2010.
Former manager Rafael Benitez had expressed reservations when Liverpool managing director Christian Purslow had first expressed his desire to bring Cole to Anfield in April 2010.
But to many Cole was the landmark signing the club had been waiting for, proof that Liverpool would succeed under Roy Hodgson and a sign that the allure of Anfield still counted for something in the minds of the best players in the land.
Steven Gerrard, memorably, went further still. "Messi can do some amazing things, but anything he can do Joe can do as well, if not better," he claimed. But the Liverpool captain was not alone in prophesising success for Cole in the red of Liverpool.
He was the sort of player many supporters felt belonged at Anfield. He embodied artistry and imagination, flair and cunning, the kind of player that prioritised magic over muscle.
But his early appearances were a portent; a red card on his Premier League debut, a missed penalty at the Kop end, while niggling injuries and a managerial change forced him to the periphery.
Only twice did Cole start more than half the league matches in seven seasons at Stamford Bridge, while a serious knee injury sustained during an FA Cup tie at Southend in January 2009 has undermined a desperate desire to succeed.
"Joe needs to stay fit, because that has been his biggest problem over the past couple of seasons," former West Ham manager Alan Curbishley told BBC Sport. "He needs games, but if he can stay fit, West Ham could have a big asset.
"The familiar surroundings will be a big help. Nothing much has changed at Chadwell Heath, that will be the first thing he will notice. But if he starts at the weekend against Manchester United he will get that buzz back at Upton Park."
The numbers will make difficult reading for Liverpool. In return for nine league starts and three league goals, Cole is likely to end up costing the club more than £14m in wages alone. But in Cole's mind, that will already be put to one side.
And yet Cole has never ducked the issue, never sulked, never moaned or poisoned the atmosphere in the dressing room. Those at Liverpool's Melwood training ground paint the picture of a professional, whose will to succeed remained steadfast to the very end.
Cole can point to his collection of winners' medals (three Premier League titles, three FA Cups, two League Cups) as well as his 56 England caps, but at Liverpool his career has stuttered and stagnated, aside from a loan spell with Lille.
Yet Cole's appetite for the game is undiminished, he has always lived for football and the joy of playing the game. West Ham plan to grant him the freedom he enjoyed in his youth and the hope is that the form will return with it.
Perhaps it was a sign that on his return to Upton Park in December, Cole scored his first Premier League goal in 20 months as Liverpool came from behind to win? He did not celebrate it - a rare moment of release restrained out of respect.
In Sam Allardyce, Cole now has a manager with a track record of reviving flagging careers and in Jay-Jay Okocha and Youri Djorkaeff, he has irrefutable evidence that his new boss has shown it is never too late to turn things around. The rest will come down to Cole.