Boateng walk-off alone will not end racism - Seedorf
Last updated on .From the section Football418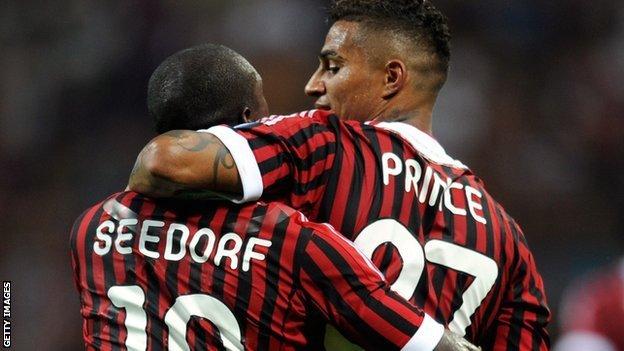 AC Milan legend Clarence Seedorf says football will not kick out the racists by players walking off the pitch.
His comments come after midfielder Kevin-Prince Boateng led his Milan team off in the 25th minute of a friendly at Pro Patria on Thursday after being racially abused by fans.
Seedorf said: "I don't see it as such a positive thing because [it] empowers more and more of this behaviour."
Patrick Vieira and Rio Ferdinand were among those to back Boateng.
Speaking on Twitter, World Cup-winner Vieira said: "It was brave of Kevin-Prince Boateng to do what he did and it was the right thing. We need to stand up and stand together. Well done."
Manchester United and England defender Rio Ferdinand tweeted: "Fair play to him. Well done #UefaStandUp"
Manchester City skipper Vincent Kompany tweeted: "Act of racism against Boateng during Milan's friendly. How about becoming extremely intolerant towards racist idiots? They need to be told."
But Seedorf, 36, who now plays for Botafogo in Brazil, would have preferred Ghana international Boateng to employ a different approach against those chanting abuse.
"They should just be identified and kicked out of the stadium," he said. "Leave the 90% that were enjoying the match and finish the game."
Seedorf added: "If Boateng was able to identify the whole corner, you just kick the whole corner out, That is how I think it should be handled.
"Walking away? Yes, you send a signal. But this has happened more than once and I don't think it really changes all that much. We are just empowering that little group with their behaviour to make this mess."
Seedorf played for Milan from 2002 to 2012 and won the Champions League with the side in 2003 and 2007.