Mario Balotelli: Controversies of the Man City striker
Last updated on .From the section Football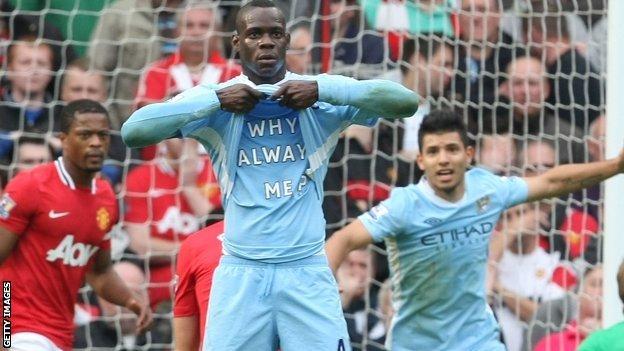 Mario Balotelli's career at Manchester City seems to have taken another turn for the worse following what appears to be a bust-up with manager Roberto Mancini.
The 22-year-old Italian striker was photographed on Thursday in an apparent altercation with his compatriot at the club's training ground in Carrington, Manchester.
It is not the first time the forward has courted controversy while at the Premier League champions, but will it be the last?
Away from fiery incidents on the pitch that have landed him in trouble, we look at some of the player's other misdemeanours.
Dart throwing - March 2011
Balotelli signed for the club in the summer of 2010 and by the spring of 2011 had already been sent off twice and had crashed his car.
Details of this latest incident were revealed in March, in which the striker was said to have thrown a dart at a youth-team player several weeks earlier.
He was spoken to by club officials, but escaped sanction over the training-ground incident in which no-one was hurt.
Back-heel error - July 2011
The striker has always been exuberant on the pitch, but on this occasion his flamboyance incurred the wrath of Mancini.
During a pre-season friendly against Los Angeles Galaxy, Balotelli was substituted after he back-heeled wide when through on goal.
"I hope this is a lesson," said Mancini, who denied that Balotelli might have thought that he was offside.
"If you [Balotelli] are serious, you can play 90 minutes. If not, you can come and sit by me on the bench."
Firework failure - October 2011
It seemed that 5 November came early for Balotelli - inside his own home.
Emergency crews were called to the Italian's Cheshire house when a firework was set alight in his bathroom in the early hours of the morning.
Four firefighters arrived wearing breathing apparatus and used two water jets to douse the flames, but police said it was an accident and decided not to take any action.
Spat with Richards - December 2011
Balotelli had worn his, now famous, "Why Always Me?" T-shirt after scoring during City's 6-1 win over rivals Manchester United in October.
Manager Mancini used that as a reference when asked to explain the training ground bust-up between full-back Micah Richards and the Italian forward.
"Richards said it was because he [Balotelli] didn't pass the ball to him. It was a really stupid thing. It was nothing. After 10 minutes it was finished," said Mancini.
"I was always involved in problems on the training ground, with Trevor Francis and Liam Brady (at Sampdoria). It happens."
Surprise school visit - January 2012
Manchester Xaverian College received a New Year shock when Balotelli parked his Bentley outside the education establishment in order to make use of their toilets.
After visiting the facilities, the City striker talked to the students in the canteen and walked into the teachers' staff room.
Student Edward Gasson, 18, was sitting in the canteen with friends when Balotelli walked in.
He added: "After that he was just walking round campus like he owned the place and everyone was following him around.
"I'm a City fan so it was amazing to see him but it was a bit ridiculous for him to come here - you would never expect it to happen."