Garth Crooks's team of the week

By Garth Crooks
BBC football pundit
Last updated on .From the section Football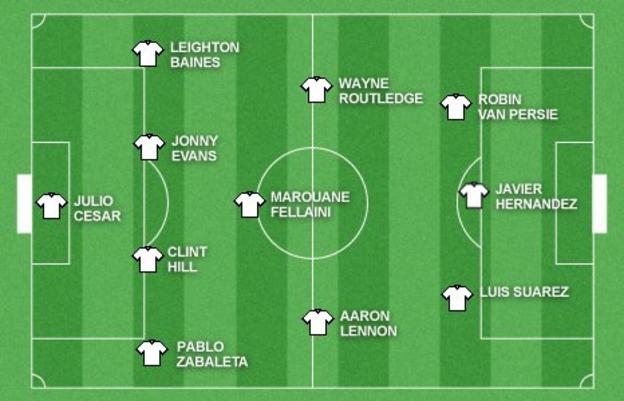 Manchester United, Manchester City and Tottenham dominate the top three positions in the Premier League and rattled in a total of 10 goals past their opponents in their first round of fixtures in 2013.
Take a look at my first team of the week for 2013 and see if you agree with my selections.
GOALKEEPER - JULIO CESAR (QPR)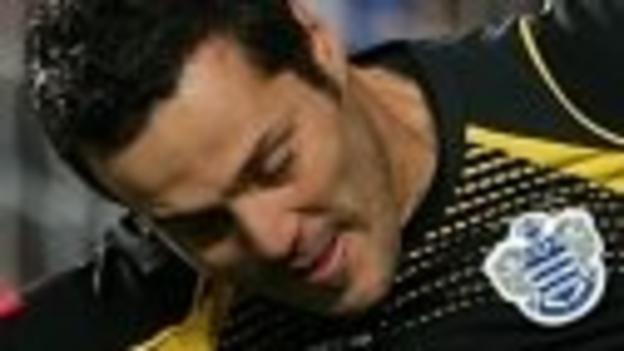 I had to see it to believe it. What a performance by QPR. According to Harry Redknapp the dressing room is buzzing and I'm not surprised. The save by Cesar from Fernando Torres in the second half was immense but it was his overall command of his penalty area that was most impressive. Who would have thought it, three points and a clean sheet for QPR at Stamford Bridge. That result will send shock waves through the bottom six clubs. If QPR can put a run together now, game on!
Did you know? Cesar kept a clean sheet on his Premier League debut against Chelsea, then a second in the return match at Stamford Bridge.
RIGHT-BACK - PABLO ZABALETA (Manchester City)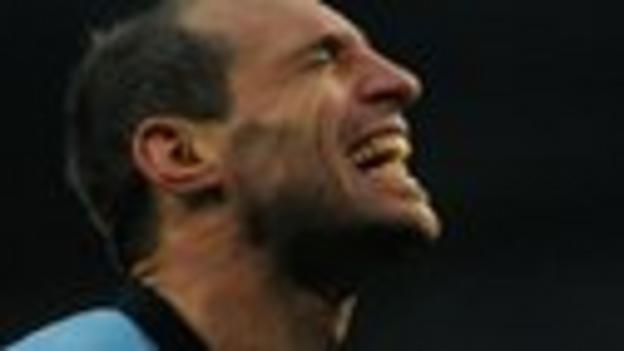 The Argentine is having a great season. The first goal against Stoke was always going to be the most difficult and it needed someone with guile and coolness under pressure to provide the breakthrough. The full-back started and finished the move that opened the floodgates for City. It will be very interesting who gets the most goals this season - Zabaleta or Patrice Evra. The chances are, the player that does will win the title.
Did you know? Five of Zabaleta's six Premier League goals for Manchester City have come at home.
CENTRE-BACK - CLINT HILL (QPR)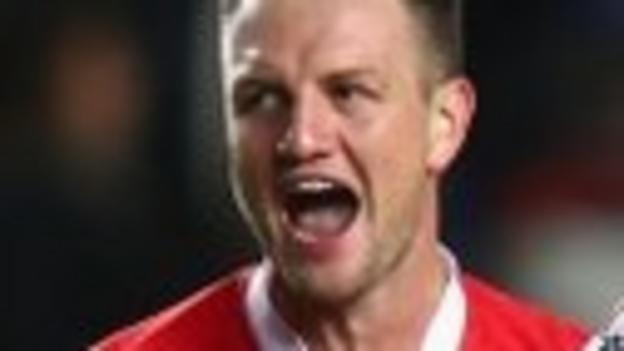 There was so much about QPR's performance against Chelsea that was so positive - Adel Taarabt up front and Esteban Grenero in midfield, just to mention two. However, Clint Hill's desire and leadership at the heart of their defence was exemplary. This is a player who is keeping Anton Ferdinand out of the team, and on this showing justifiably so.
Did you know? Hill made five blocks, more than any other player in the Premier League in the round of fixtures on 1 and 2 January.
CENTRE-BACK - JONNY EVANS (Manchester United)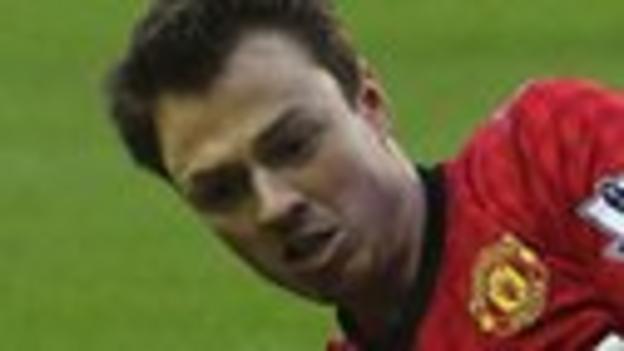 I have watched this player closely for some time and I owe Sir Alex Ferguson a huge apology. I never thought Jonny Evans was in this class. Not only has he never let Sir Alex down, his performances this season have at times been outstanding. This was no better demonstrated than in the second half against Wigan when he caught Arouna Kone, having given him a five-yard start, and saw off the Ivorian. I couldn't believe my eyes.
Did you know? Manchester United have taken an average of 2.67 points per game when Evans plays this season, compared to 2.29 when Nemanja Vidic plays.
LEFT-BACK - LEIGHTON BAINES (Everton)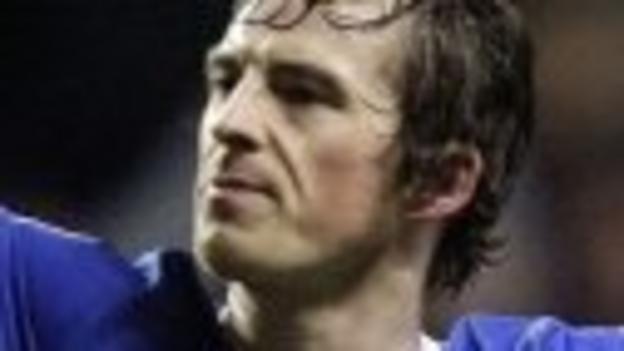 I've said it before and I'll say it again, when Leighton Baines plays well, so do Everton. This was no better illustrated than against Newcastle United, who could be the surprise team that ends up in a relegation dogfight. Something is not right at Newcastle and Alan Pardew better fix it quickly.
Did you know? Since August 2010, Baines has scored (12) or provided assists (15) for 27 Premier League goals, 10 more than any other defender in that period.
MIDFIELD - AARON LENNON (Tottenham)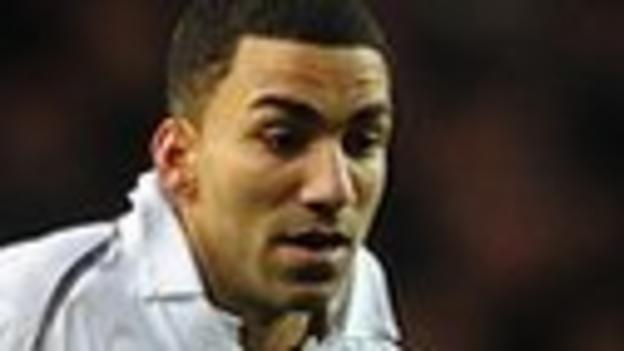 For the second consecutive game, Aaron Lennon has made it into my team of the week. Against Sunderland, he and Gareth Bale ran the show. In the absence of Bale and against a stubborn Reading side the Yorkshireman grabbed the mantle and performed brilliantly, providing the assist for Emmanuel Adebayor to put the game beyond the Royals. Two superb performances from the England international. If he keeps this form up, he's a must for Roy Hodgson.
Did you know? Lennon has been involved in a goal (scored or assisted) in each of his last three Premier League appearances, his best such run since August 2009 (also three appearances). Only in March 2007 has he produced a longer stretch (four).
MIDFIELD - MAROUANE FELLAINI (Everton)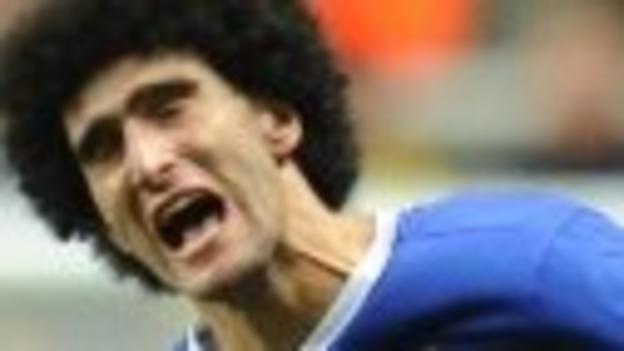 Marouane Fellaini and Everton paid a heavy price for his suspension but he's served his sentence for that headbutt and now he's back doing what he does best, wreaking havoc. The longer the game went on, the more Fellaini turned the screw. Newcastle simply couldn't handle the Belgian. There's no doubt about it - when Fellaini's on song, he's unplayable.
Did you know? Everton have scored 1.75 goals per game with Fellaini in the team this season, compared to 1.40 in the five games he has missed.
MIDFIELD - WAYNE ROUTLEDGE (Swansea City)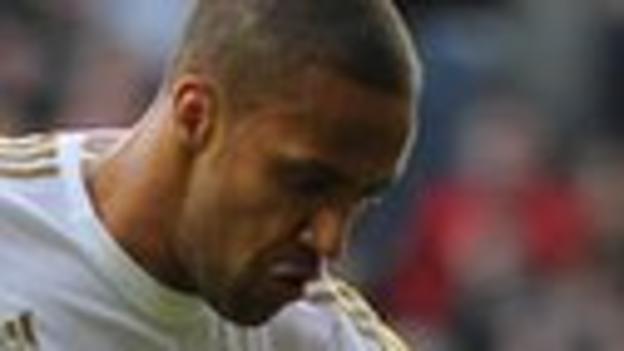 Here is another winger who seems to be playing some of the best football of his career. The much-travelled wide man has promised much at his various clubs but I can't remember when I've seen him look so dangerous, particularly in front of goal. He absolutely terrorised Aston Villa in the first half.
Did you know? Routledge has now scored five goals in 20 Premier League appearances this season, after one in 127 in previous campaigns.
FORWARD - ROBIN VAN PERSIE (Manchester United)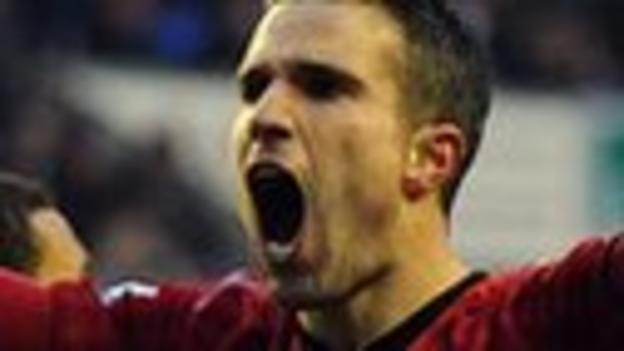 I had the pleasure of interviewing the Watford manager and football legend Gianfranco Zola for Football Focus this week, and we spent the first few minutes purring over Robin van Persie's movement for both his goals against Wigan. Anyone who knows anything about front play cannot fail but to appreciate this art form. A thing of beauty.
Did you know? Without Van Persie's goals and assists this season, Manchester United would be 26 points worse off and in 11th place in the Premier League.
FORWARD - LUIS SUAREZ (Liverpool)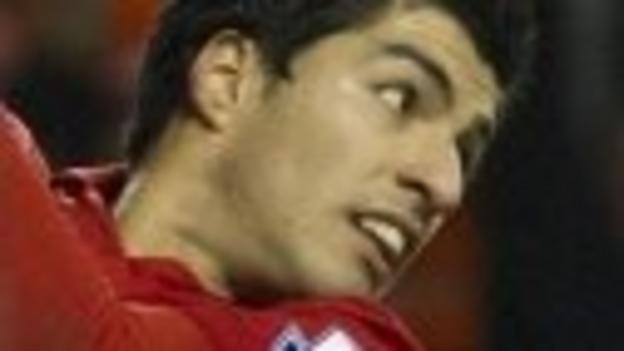 When I left Frank Lampard out of my team of the week a few days ago, a few eyebrows were raised. Well, I have had to do the same with Dimitar Berbatov but I do so with a heavy heart. Why? Because of Luis Suarez. He was red hot against Sunderland.
Did you know? Suarez now has 15 Premier League goals, a higher total than any Liverpool player managed in either the 2010-11 or 2011-12 seasons.
FORWARD - JAVIER HERNANDEZ (Manchester United)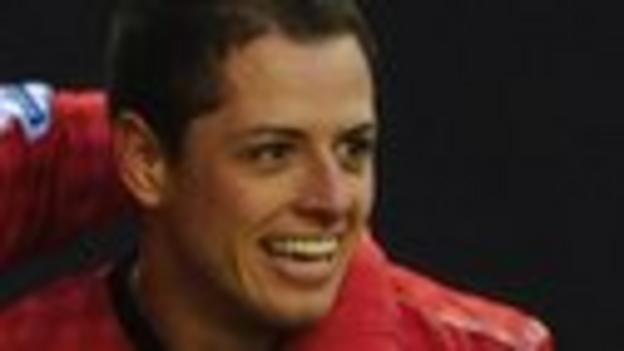 Can you believe this? Ferguson has gone and found another Ole Gunnar Solskjaer. A player who can score a brace one week and is happy to be left out the next, without a murmur. Not only does the Mexican look like an integral part of the team, he never lets the fact that he is not an automatic choice cloud his performances. Brilliant!
Did you know? Hernandez has scored a goal every 75 minutes so far this season, more often than any other player in the Premier League (who has scored a minimum of two goals).