Demba Ba: Barnsley rejection to Chelsea transfer talks
Last updated on .From the section Football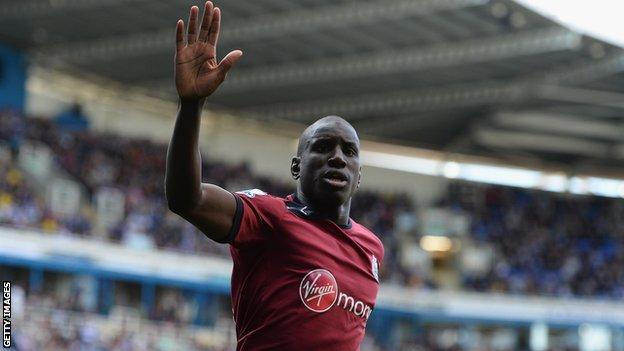 Demba Ba is on the verge of joining European champions Chelsea, but it has not been an easy path to the top for a player who once suffered rejection from Barnsley and Watford during his desperate effort to earn a contract.
The Senegal striker, 27, has scored 29 goals in just 58 appearances for Newcastle to become one of the most in-demand strikers in the Premier League, but no-one could argue he has not earned such recognition.
Ba suffered rejection after rejection as a teenager trying to earn a contract at a professional club. Trials at Lyon and Auxerre in 2004 proved unsuccessful, prompting him to spread his search further afield by jumping in a car with friends to try his luck in England.
He had no plan when he emerged from the Channel Tunnel in Folkestone, staying in hotels and on the floor of friends' houses as he contacted clubs in an effort to earn a trial.
A friend from France, Gauthier Diafutua, was playing for Watford at the time and he managed to convince the club to take a look at Ba.
He was also invited for a week-long trial at Barnsley, only to be rejected.
"I went to Barnsley and stayed in a fantastic hotel. The club paid. The trial didn't work out. We were there a week but it was a bit chaotic," Ba said in a recent interview.
"We wanted to check out but then... trouble again. The reception said the club had paid for the hotel but that we had to pay for the food.
"We had no money, we didn't know what to do. We contacted an agent who was able to send us some money to pay the £500 bill. In those days, we were eating only crisps and drinking water."
Ba then enjoyed a trial at Watford and told his official website he expected to be offered a contract, only for those hopes to disappear when manager Ray Lewington lost his job.
Rejections from Swansea and Gillingham convinced Ba to return to France, where he signed for fourth division side Rouen.
There he played as a striker, having initially touted his services as a defensive midfielder before deciding he did not enjoy the defensive responsibilities which that entailed, and his goalscoring talent soon became evident as he scored 22 goals in only 26 appearances before moving to Belgian side Mouscron.
A similar impressive record in front of goal saw him earn his first international cap with Senegal, as well as catch the attention of Hoffenheim, and in 2007 Ba was on his way to Germany.
Another step up in quality did not faze Ba, who played an important role in Hoffenheim's promotion to the Bundesliga and in his first season in the German top flight he scored an impressive 14 goals.
But, having finally achieved his ambition of playing professional football, something else was to threaten his dream of playing in England.
In 2006, Ba had broken his left leg in two places, resulting in a pin needing to be inserted to stabilise the fractures. That was removed in 2009 but during the surgery a tendon in his knee became damaged.
It was an issue that troubled some clubs and he failed a medical at Stuttgart before a proposed move to Stoke City in January 2011 fell through for the same reason.
Ba left Hoffenheim soon after and, despite his injury concerns, West Ham opted to take a chance and signed him on a pay-as-you play deal to help in their battle against relegation.
Ba finished as the Hammers' top scorer with seven goals from just 12 games, but could not prevent the club from dropping into the Championship and consequently he was on the move soon after, joining Newcastle on a three-year deal.
Since then, Ba's record speaks for itself. He finished last season as the club's top scorer with 17 goals and he has added 13 to that tally since August, scoring almost half of Newcastle's total goals for the current campaign.
The threat of injury has also failed to materialise, with the striker having missed only 17 games in the last seven years.
Chelsea finally appear to have found the player to replace Didier Drogba and, with talented players like Eden Hazard in support, Ba's imperious form in front of goal is likely to continue at Stamford Bridge.
It is has been a long, hard road for Ba, but one that has certainly paid off.