Martin Ling says Torquay fans must 'get real' over transfers
By Brent Pilnick
BBC South West Sport
Last updated on .From the section Football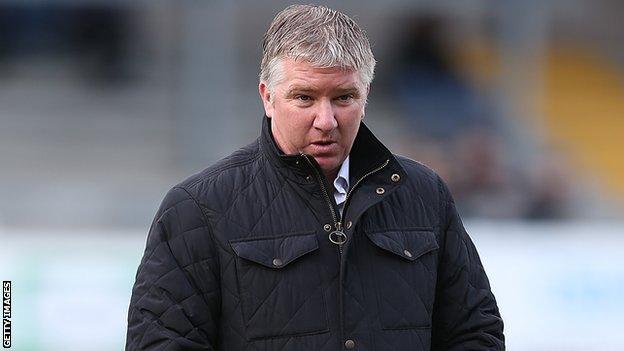 Torquay boss Martin Ling has called on some of the club's supporters to "get real" over strengthening his squad.
The Gulls on New Year's Day after conceding a third injury-time goal in as many games.
But despite having and out injured, Ling says there will not be wholesale changes to his side.
"Let's get real, there's a few fans saying we have to go out into the market," Ling told BBC Radio Devon.
"We've got money to go out and get a loan player, we haven't got money to go out into the market.
"We're not the type of club that can get four or five players in and bomb four or five of our players out."
And Ling added that he is being frustrated by the late goals that are hurting his side, who have slipped from the edge of the League Two play-off spots to 15th place.
"Last-minute goals are killing us," he said.
"We're giving away goals too easily.
"In the last three games everyone's scored against us after 90 minutes so it's frustrating, that's for sure.
"We've done exactly the same this year as last year which took us to fifth in the league and a play-off semi-final.
"People say it's fitness, but that's rubbish as we do exactly the same and all the stats and training results are perfect.
"Of course it's a mental thing, when it happens once, and then twice, it's in the back of your mind.
"We looked like we were the ones who'd got out of jail with a last-minute goal but then we still managed to throw it away," Ling added.