Brian Deane ready for Norwegian managerial challenge
By Jonathan Jurejko
BBC Sport
Last updated on .From the section Football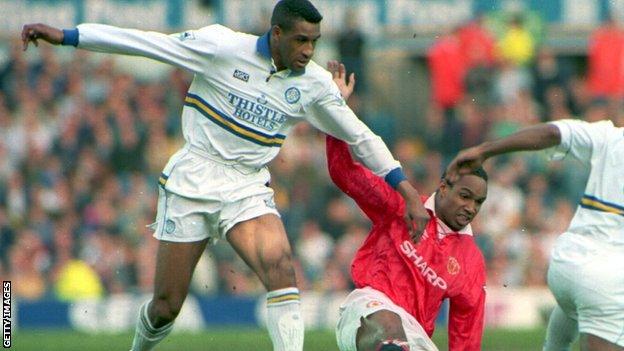 Scoring the first goal in England's newly formed Premier League in 1992 guarantees a permanent place in football history for former Sheffield United striker Brian Deane.
He went on to score 195 goals in 654 first-team appearances representing the likes of Leeds United, West Ham and Portuguese giants Benfica, as well as winning three England caps.
But following his retirement in 2006, the 44-year-old realised these achievements do not guarantee a easy route back into the coaching side of English football.
So he has decided to take his first step on the professional ladder with little-known Norwegian club Sarpsborg.
Deane begins his new role on 3 January ahead of the start of newly promoted Sarpsborg's first season back in the Norwegian top-flight, the Tippeligaen, in March.
His move to Scandinavia mirrors that of current England boss Roy Hodgson, who started his coaching career in Sweden after fears he would not be given an opportunity by English clubs because of his limited playing credentials.
Clearly, Deane does not have the same concerns following a distinguished career spanning 21 years. But, like Hodgson in 1976, he looked abroad because he felt there are still barriers in this country which are stopping him and others being considered for jobs.
The lack of black managers in English football has sparked fierce debate in recent months - although Deane, who is an ambassador for the 'Kick Racism Out' campaign, says that is not behind his decision.
"I've not been applying for jobs long enough to find out if [race] is an issue - I've just decided to go down the route I've gone," he told BBC Sport.
"I want to be successful and don't want to have to rely on somebody saying I should be given a chance. I want to be judged on merit.
"I want to be judged on what experience I've had as a player and think I must have something. It's easier for some people - black, white, yellow, green, whatever - to get into jobs than others. People need to be a little more open-minded."
Deane believes the problem in English football is that only the same pool of people are considered when jobs come up, because of a lack of vision from chairmen and directors who are also worried about upsetting supporters.
"You've got to give somebody an opportunity to find out what they are saying before you discount them and that's where people have failed," says Deane, who also played for Doncaster, Middlesbrough and Leicester.
But he has been given a chance by Sarpsborg after a conversation with Tore Pedersen, a Norwegian agent who had brief playing spells with Blackburn and Oldham in the 1990s, alerted him to the job.
After retiring, Deane took a break from all forms of football before linking up with University of Leeds head coach Ian Burchnall, who had been recommended by his former Middlesbrough team-mate John Hendrie, to study towards his coaching badges.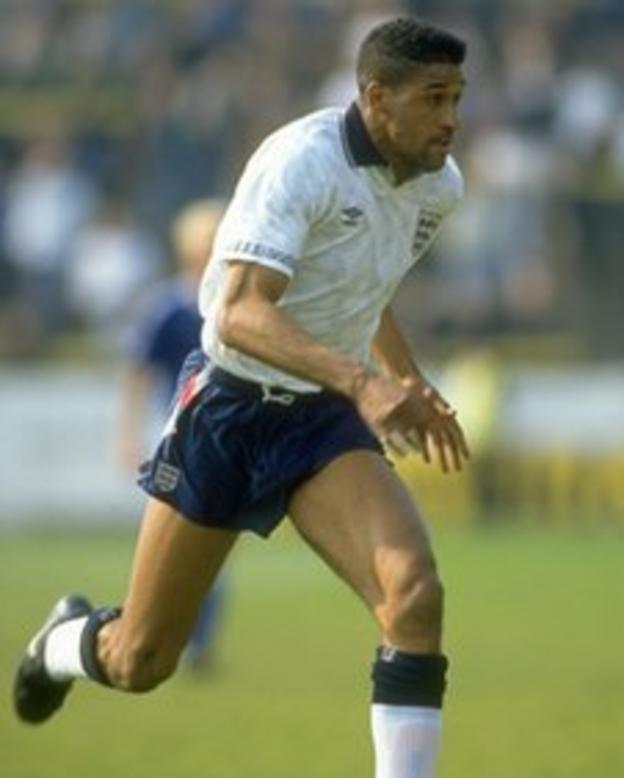 Burchnall, a former semi-professional player who began coaching as a teenager, appointed Leeds-born Deane as director of football and the pair have gone on to forge a successful coaching partnership, helping the red-brick university win the British University and College Sport Premier Division title for the first time in 2010.
Now they are hoping to transfer their success into the professional game with 29-year-old Burchnall joining Deane in Sarpsborg as his assistant.
Deane and Burchnall have already spent a lot of time in Norway to recruit players for their International Academy for Football and Education, while Deane plays in a charity tournament organised by his ex-Sheffield United team-mate Jan Aage Fjortoft.
"I think I've got a good playing CV and if I can do well for two or three years as a manager in Norway then who knows where it might lead," said Deane.
"But once I've done it then I can throw my CV in against anybody and feel more confident that I've been abroad and done it outside of my comfort zone."
As well as his season-long spell at Benfica, Deane spent a short stint with Australian side Perth Glory and is a big advocate for other British players and coaches going abroad.
"I wouldn't say Hodgson has been an inspiration but he did a good job and the Scandinavians are quite open to the idea of having English coaches.
"It's an advantage for me because it opens up opportunities in different countries as well as in England perhaps.
"We've got some fantastic coaches here but some need to go abroad. People moan about foreign coaches but what are we exporting?
"Why can't some of our best coaches go abroad? Someone like David Moyes going to Atletico Madrid. Brendan Rodgers - I can see him abroad one day managing in Spain."
Linking up with English clubs is an avenue which he has been exploring - holding talks with a "few" Premier League and Championship clubs about taking young players on loan.
"But it's got to be a two-way street," insists Burchnall. "It's a great experience for a young player to experience a different culture, a different environment, a different style of football, different methods and bringing it back, rather than going to a League Two club where it is more results-driven and physical.
"In Norway it's more technical but slightly lower tempo. We can offer a lot of first-team experience against the likes of Molde, Rosenborg, Lillestrom, Viking, Stromsgodset, teams with European experience and international players."
Deane adds: "If they come out with us and gain that experience then they will be nearer their first team. That's what we hope to give them - an experience unique to playing in the reserves or Under-21s and playing in a top league."
And Deane hopes his own Norwegian experience can propel him up the coaching ladder - whether that's in England or elsewhere.