QPR's Clint Hill demands fighting spirit from squad
Last updated on .From the section Football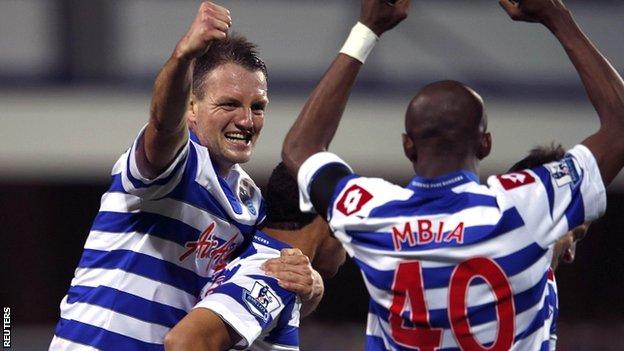 QPR defender Clint Hill says players not committed to the fight against Premier League relegation should leave.
Full-back Jose Bosingwa was fined by manager Harry Redknapp after refusing to be a substitute against Fulham two weeks ago and has not featured since.
"The gaffer was right," 34-year-old Hill said. "If you don't want to go on the bench, do you want to be here? That hurt us as a group, definitely.
"If you don't fancy it then off you pop, simple as that."
Rangers are bottom of the Premier League and Redknapp, who took over from Mark Hughes in November, has also been critical of some players.
Bosingwa, one of 16 players signed during the 10 months Hughes was in charge, was fined two weeks wages by Redknapp, who was astonished to find that equated to £130,000.
"He was earning more than any player earned at Tottenham," he said. "You shouldn't be paying massive wages when you've got a stadium that holds 18,000 people.
"There a lot of players at this club who earn far too much money."
Redknapp drew his first three matches in charge and, although he secured QPR's first win of the season against Fulham, successive defeats have left Rangers adrift at the foot of the table.
Liverpool-born Hill, who joined QPR in 2010, fell out of favour under Hughes but has been a regular in Redknapp's starting line-up.
"Of course I was hurt when we bought so many new players and I'm not the only one," Hill said.
"There were another 10 or 11 players who had done well for this club and brought us up from the Championship, which is a hard league."
Asked about the attitude of some higher profile recent additions at Loftus Road, he said: "It's different cultures and the ways the foreigners have been brought up is different. Do they get taught that losing is hard to accept? I don't know.
"It's a different mentality. It hurts and it should hurt everyone no matter what culture or country you're from.
"As much as I can, I've spoken to those players. I'm 34, I've played most of my career in the lower leagues and we are talking about Champions League winners, people who have won Premier Leagues, FA Cups.
"You hope there is a desire within them - to win those kind of medals there must have been. We need that as a team; we need it as a unit."
Hill, who was named fans' and players' player of the season last term, added: "As one of the players who played Saturday-Tuesday, Saturday-Tuesday and fought for everything, it can be hard to take.
"We're not naive to think we didn't need change. It's just a case of how much change."