Sheffield Wednesday's Jeremy Helan gets two yellows but no red
Last updated on .From the section Football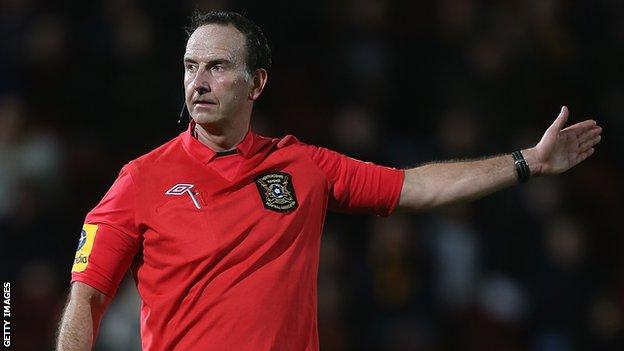 A referee is to be investigated for not sending off a Sheffield Wednesday player he booked twice.
Mick Russell showed midfielder Jeremy Helan a second yellow card in the 26th minute of the but did not produce a red.
Huddersfield boss Simon Grayson described the incident as "staggering".
The Football Association and referees' body Professional Game Match Officials Limited said Russell "admitted making a genuine error".
An investigation will be carried out to "determine why this arose and what sanction, if any, should be administered to the match officials", the PGMOL added.
Russell booked 20-year-old Helan for a foul on Huddersfield winger Adam Hammill, but the Hertfordshire official forgot he had booked the Frenchman for diving in the penalty area in the ninth minute.
The PGMOL said Russell had taken down the number of Michail Antonio instead of Helan for the first booking.
Grayson said: "Something quite simple like that shouldn't be happening in Championship football. He's not done it deliberately, but you can't make major mistakes like that."
Grayson said the referee apologised for his error after the match.
"I think he's probably written the wrong number down in his book, which is staggering," he said. "I also think he should have been helped by his officials.
"I'm not going to say Wednesday going down to 10 men would have guaranteed us winning the game, but it would have certainly helped us."
Former Football League official Tony Leake said a replay of the fixture was not out of the question if Huddersfield made a complaint.
But Grayson was unsure about this possibility, saying he would be "very surprised".
Wednesday boss Dave Jones was adamant that Helan, who is on loan from Manchester City, should not have received his first booking for diving in the ninth minute.
Jones said: "It was a penalty. Helan has been clipped and he's not the type of lad to dive.
"I think we should have won the game. That's what I'm perplexed about."