Kilmarnock boss Kenny Shiels defended by son
Last updated on .From the section Football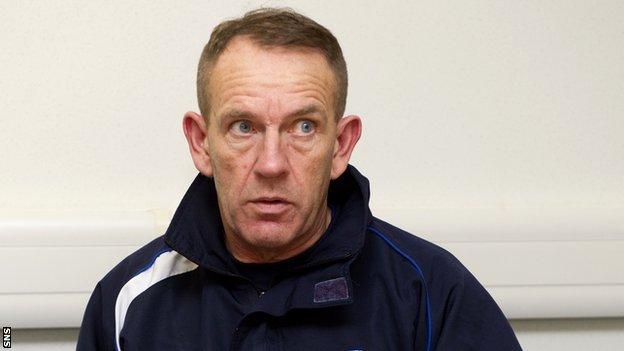 Kilmarnock manager Kenny Shiels, in trouble with the Scottish FA on a number of occasions this season, has been defended by his player son, Dean.
The younger Shiels, currently at Rangers after playing under his father at Kilmarnock last season, insisted he was being treated unfairly.
"It's disappointing how he is being treated at the moment but that's the way he is," said Shiels.
"He's been portrayed by the media in a certain way that's completely untrue."
The Rugby Park boss has found himself on the wrong end of a touchline ban after comments made in the media this season.
But the 27-year-old insisted his father's character was nothing like the way he has been characterised by the media.
"For anyone who knows him off the park, or if you asked any of his friends, he is a completely different character," said Shiels.
"I think he's been portrayed as being angry and unhappy all the time, when it's actually the complete opposite when he's away from football.
"I think it's because he wants to win so much, and he puts so much into the job, that you see his emotions coming out.
"If he's asked a question, he will answer it honestly, while some managers will say what the press want to hear rather than what they think.
"If you're going to go down the road of wanting communication between the press and the managers and players, there has got to be a bit more honesty in football, rather than saying things for the sake of it."
The Northern Ireland international also claimed his father's achievements at Kilmarnock had been unfairly overlooked.
"I can't understand why he's been over-looked for all the personal awards," he said.
"He won the League Cup in his first season, they beat Rangers twice last year, they beat Celtic in Glasgow twice in this calendar year.
"Maybe the media attention he gets means he does get over-looked for how well he has done at Kilmarnock.
"I think that should be recognised."