Richard Lee urges Brentford not to let self-belief slip
Last updated on .From the section Football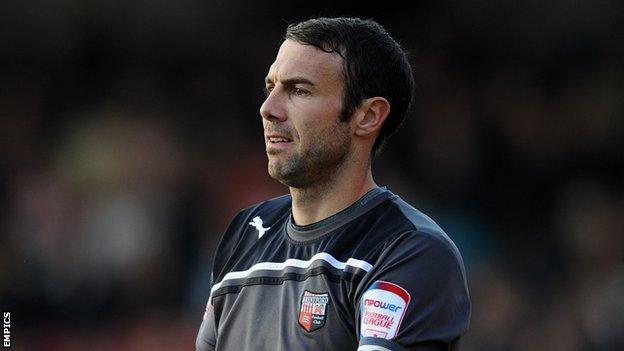 Brentford keeper Richard Lee has his urged team-mates to retain their self-belief as they look to continue their League One promotion bid.
A 10-match unbeaten run has lifted the Bees to third in the table.
Lee told BBC London 94.9: "Our run of late, especially the last six or seven games, has injected a belief that we are as good as anyone.
"We certainly know if we are to finish in the top two it will require a phenomenal second half of the season."
Brentford are only two points behind leaders Sheffield United and 30-year-old Lee continued: "We have to believe in ourselves without being arrogant or cocky."
In the summer, Lee predicted Brentford would be able to mount a push for the play-offs but he is surprised by how close the top of the table is at the halfway stage of the campaign.
Just nine points separate top of the table Sheffield United from ninth-placed Stevenage, ahead of the final fixtures of 2012.
"This is such a tight division this year. It is very unusual," said Lee.
"You usually get one or two teams that will run away with it but this season there are seven or eight teams, if not more, who fancy themselves for a top-two position.
"We are certainly amongst that. It is up to us how we approach the rest of the season."
Lee, who joined the west London club from Watford in the summer of 2010, has extended his contract until the summer of 2014.
He has only made five appearances this season but he is convinced he has made the right decision to pledge his future to Brentford.
"I have had a few injuries and haven't played all that much but it has been a great season for the team," he said.
"One of the main reasons for that is the form of [fellow goalkeeper] Simon Moore, who has been superb.
"It is a fantastic place to be right now. We are really going somewhere.
"This is comfortable the best footballing team I have been involved in."
Renewing his contract was a "simple" decision for Lee.
"I asked myself a few questions; 'Do I enjoy where I am?', 'Do I enjoy who I work with?' and 'Do I think I will get myself back in the team?'. "The answer to all three was 'Yes'.
"In fairness to the club, they have been reasonable and accommodating with me.
"I have had a few injuries and on paper I'm perhaps not the safest bet in some ways.
"They have constructed a contract that will reward me if I get myself fit and hopefully it's a winner for myself and the club."