Stoke City deserve credit for Premier League achievements

By Phil McNulty
Chief football writer
Last updated on .From the section Football615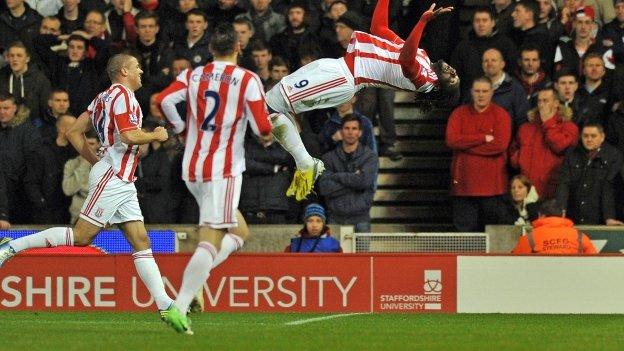 One of the lazier default insults aimed at Stoke City is to ask if the game's great and good - didn't someone once even pose the question about Lionel Messi? - can "do it on a cold, wet night" in The Potteries.
Judging by the impressive body of work being assembled by manager Tony Pulis and his Stoke City players this season, there is no easy day or night in which to arrive at The Britannia Stadium and go away with points.
It was indeed a cold and bleak scene that greeted an ill-equipped and lightweight Liverpool. All aspects of the game were well beyond them - but to suggest it was simply the climate and physical power that did for Brendan Rodgers's team is to do a grave injustice to Stoke and their manager.
Stoke's 3-1 win that maintains an unbeaten 16-match run at home and extends their unbeaten Premier League sequence to nine games was the epitome of all that Pulis wants from his side and included great moments of quality and domination.
To praise Stoke's style in victory is as unfashionable as platform shoes but it should be done anyway. Pulis appears, on the surface at least, to be supremely indifferent to a rather snobby attitude some have towards his methods but he is at least in on the joke.
Reflecting on the latest demonstration of their continued improvement and stability in the Premier League, he said: "We played some really good football - but don't tell anyone."
The secret was out, however, on another atmospheric night in which Stoke showed unswerving self-belief to recover from the concession of a penalty to Liverpool in the opening moments.
It was Liverpool's first penalty of the season and was celebrated by the release of a flare as Steven Gerrard scored. The red smoke had not even cleared before boyhood Evertonian Jon Walters drew Stoke level and it was not much longer before Kenwyne Jones put them ahead.
Walters scored a spectacular volley that was a testimony to his technique and what followed was confirmation of Stoke's current confidence and the fault lines running through what Rodgers currently has at his disposal at Liverpool.
And a glance at Stoke's lofty position of eighth in the table means they should be given full credit for what they achieved and, certainly on Wednesday, the style in which they achieved it.
One moment in the first half summed up the bond that exists between Stoke's players and the supporters who follow them so fervently. To an almost bullring roar from The Britannia, Liverpool were pressed further and further back into their own territory by a chasing pack of opponents and an increasing sense of panic. The crowd loved it and so did Pulis and his players.
Stoke will no doubt be downgraded at regular intervals throughout the season - but how about some praise for a club that has been built gradually and sensibly by chairman Peter Coates and the manager he places his faith in?
It was certainly all too much for Liverpool, who swiftly banished memories of their fine 4-0 win against Fulham and instead looked flimsy and unprepared for what they would face at Stoke.
Rodgers has been unable to inject any consistency into Liverpool since his arrival and there was very little he could take positively away from The Britannia.
Luis Suarez, to the surprise of no-one in particular, was the villain in the eyes of Stoke's fans, even before winning a penalty when he was fouled by Ryan Shawcross but he operated on a different level to the rest of his team-mates.
Outstanding throughout, the Uruguayan never yielded an inch until the final whistle blew and performed in a manner that merely underscored the mediocrity swilling around him.
Rodgers himself may reflect on his decision to thrust frail teenager Suso into such a fixture. He was preferred ahead of Joe Allen, even though Rodgers lavished wild praise and £15m on the Wales midfield man when he followed him from Swansea.
Suso was put out of his misery in favour of Raheem Sterling at half-time but the momentum was already with Stoke. Walters and Jones bullied Martin Skrtel and Daniel Agger with footballing as well as physical prowess and the only serious hints of danger came when Suarez had the ball.
Rodgers has January reinforcements lined up in the shape of Chelsea's Daniel Sturridge and Blackpool's former Anfield youngster Tom Ince but it will take more than these two, who still have so much to prove anyway, to make the transformation the manager appears to require, both in terms of style and results.
Pulis has been building steadily towards what he has now. And in Stoke's fifth Premier League season this is the best he has had - even if he does not like people knowing about it.