Kenny Shiels admits it is a struggle not to voice opinions
Last updated on .From the section Football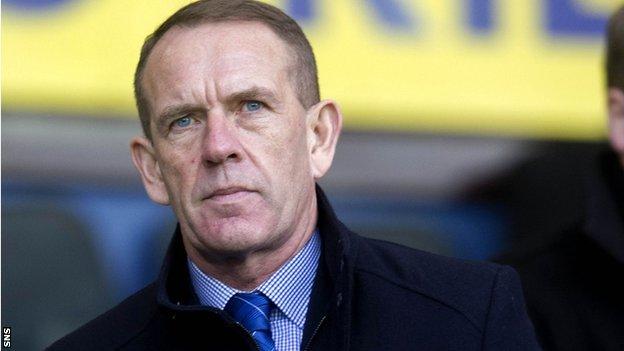 Kenny Shiels has spoken of his turmoil as the year ends with the Kilmarnock manager serving a touchline ban and facing a January disciplinary hearing.
While claiming to "really enjoy" life in Scotland, the Ulsterman admits it is hard for him to become less outspoken.
"I'm trying to not tell the truth as much and retract from what I say," said the controversial Rugby Park boss.
"There are so many in this industry that have good political skills. I've got to see what I can learn from them."
to explain comments he made about fourth official Andrew Dallas over a sending-off incident in his team's home game against St Johnstone in November.
He recently visited Hampden after being issued with a complaint notice by Vincent Lunny, the SFA's compliance officer, for two alleged breaches of SFA rules.
And earlier in the season for stating that Celtic benefited from "amazingly loaded" refereeing decisions in a 2-0 win over St Johnstone.
"I don't take life seriously - the only thing I take seriously is football," Shiels told BBC Radio Scotland.
"Outside of that, I'm not a bad person. I'm sort of like a monster in the game, and I try not to be, but that's me.
"I try to change it, but if I change it, do I weaken my managerial skills?
"I'll probably not change, to be honest."
Shiels, who guided Killie to Scottish Communities League Cup success with a 1-0 victory over Celtic in March, has seldom been far from the headlines since taking over from Mixu Paatelainen as manager at Rugby Park in March 2011.
The 56-year-old acknowledges that his combative nature can raise the heckles of others in Scottish football but suggests that his persona is different when not performing his managerial duties.
"I'd say about 98.8 per cent of the time I wind people up. That's just the way I am," he said.
"At school they called me poker face.
"Sometimes I kill myself because you are like two different people.
"In the football environment you are one person and when you leave that and go home you are another person.
"That's the problem with the job that I am in.
"But it's a great place to be, Scotland, and I really enjoy it.
"Everybody has a massive energy and passion for football, tennis and everything and I respect that so much."