David Luiz midfield switch boosts Brazil's World Cup hopes
By Tim Vickery
BBC Sport, Rio de Janeiro
Last updated on .From the section Football81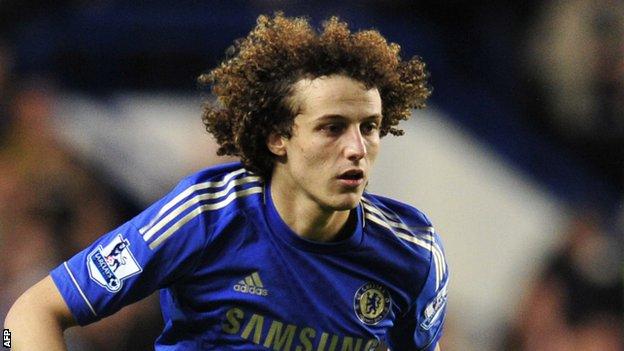 Might Brazil have won at the Club World Cup two times over?
The first instance is obvious. Champions Corinthians - conquerors of Chelsea - flew home to a hero's welcome in Sao Paulo.
But that celebration is nothing compared to the way the entire country will react in a year and a half's time if Brazil win the World Cup on home soil.
And perhaps the recent action in Japan has aided that endeavour by demonstrating that Chelsea's David Luiz is best employed in front of the centre-backs.
Brought into the Brazil side after the last World Cup, Luiz has had an up and down time in winning his 17 international caps. He has opened up rival defences with his surges from the back and long-range passing.
But he has also had some very bad moments against top-level strikers. Karim Benzema tore him apart when Brazil met France nearly two years ago, which meant that Lucio was recalled for the next game and left Luiz to watch the 2011 Copa America from the bench.
And, nearly a year ago in a friendly against Bosnia, Edin Dzeko gave him a torrid time, putting an end to the talk of Luiz going to the London Olympics as one of the over-age players.
Even on the occasions that Luiz has played well there he has often suffered a lapse; being caught on the wrong side, perhaps, or diving in recklessly and losing position. In terms of 2014, this leads to worrying thoughts.
A lesson that Brazil learnt from the last World Cup is that it does not necessarily take a bad game to knock a side out, or even a bad half. A disastrous 15 minutes can be enough. Can Luiz be trusted when the stakes are so high?
During the reign of Mano Menezes as national team coach, the left side of defence was usually Brazil's biggest concern. Both Luiz, the left-sided centre-back, and Marcelo, the left back, have similar defects in that they attack better than they defend and can lose their cool when the team go behind.
In his last match in charge of the full-strength side, Menezes switched his centre-backs, with David Luiz on the right and Thiago Silva coming across to the left. The idea was to shore up the weaker flank.
In the long term, though, the question still remained. Could Brazil afford two impetuous defenders in their back four?
But what about a back five? Here the recall of Luiz Felipe Scolari to coach the national team becomes so interesting.
In 2001, when his previous spell in charge of Brazil began, 'Big Phil' was a specialist in 4-4-2, with a target man striker. The idea that he would take a back three to the 2002 World Cup could not have been further from his mind.
He was on record as not liking the system. But, he had a look at the resources available to him, arrived at the conclusion that full-backs Cafu and Roberto Carlos were irreplaceable, and that the two were happier pushing forward that defending.
Scolari experimented with a back three at the 2001 Copa America and, by the time the World Cup came around the following year, the system was bedded in.
Crucially, Edmilson had emerged as one of his centre-backs. Originally a midfielder, Edmilson brought a much-needed flexibility to what can otherwise be an overly rigid system. His capacity to step up to midfield when necessary balanced out the whole side.
So when Luiz was shining in midfield against Monterrey, the name of Edmilson was being remembered all over Brazil. Might Scolari be tempted to repeat the 2002 idea?
His likely first choice full-backs, Daniel Alves and Marcelo, have great attacking potency but, defensively, are not in the class of Cafu and Roberto Carlos.
Motives exist, then, to bring in extra protection. The strapping Dede of Vasco da Gama is an obvious candidate, while Rafael Toloi of Sao Paulo has his admirers. A long-term outsider could be the left-footed Doria of Botafogo, just turned 18, who made such an impression this year in his debut season.
Luiz in front of a pair of centre-backs would seem to make such sense. He is still likely to suffer the odd lapse - there were even a couple in Sunday's 8-0 demolition of Aston Villa - but mistakes need not lead to catastrophe, as it did against Corinthians when he was playing at centre-back. Luiz dived in rashly on Paulinho at the start of the move that led to Paolo Guerrero's decisive goal.
As long as the team is sufficiently compact then Luiz can afford to dive in occasionally because he would have two defenders behind him. And, he is also free to do what he seems to enjoy most; carry the ball forward.
But the most striking aspect of his early forays into midfield has been his range of passing. He can give the ball long or short and seems to have more aptitude for it than almost anyone else Brazil have fielded in central midfield in recent times.
Will Scolari give it a go? Luiz will not have to travel far to find out. First chance is a friendly against England at Wembley on 6 February.
From last week's postbag;
Q. Why doesn't anybody put a man marker on Lionel Messi a la Gentile on Maradona in the 1982 World Cup?
Will Goble
A. I have seen it work, notably when Colombia's Carlos Alberto Sanchez did an excellent job on him in the 2011 Copa America. Barcelona's collective play is so good, though, that the marker would get dragged all over the place and Messi's team-mates would break into the holes.
Another explanation is that rules are applied much more rigorously than they were in 1982. In 1998, for example, Jamaica sent out Darryl Powell to man mark Ariel Ortega, with the idea of interrupting the link between Ortega and Juan Sebastian Veron. Powell was sent off in the first half.
Q. Paulo Henrique Ganso has made three appearances for Sao Paulo this season since his move from Santos. Obviously it's well known that he was hotly tipped to be a future Brazil star. He has the skills of a classic number 10 in the Juan Roman Riquelme mould. But is he too one-dimensional to cut it at the highest level and is his style outdated in modern football?
Raf Diallo
A. I sincerely hope not, because I'm a huge fan of this type of player. It is said that the last century has seen the triumph of rhythm over melody, which is probably what makes Riquelme so downcast.
He's a melodist, searching for time and space to sing his song. I think there will always be room for players who can pass their way through opposing defences.
Ganso should have more space now - Sao Paulo's stadium has a giant pitch. He needs to show in 2013 that he has recovered from his injury problems, and that he is no longer affected by the premature hype that surrounded him. He has much to learn about taking the right decision in possession.