Robbie Savage Talking Tactics: Reading almost rewarded
Last updated on .From the section Football

The Royals defended magnificently for more than 90 minutes before one mistake right at the end of the match meant a seventh straight defeat that keeps them bottom of the table.
Reading boss Brian McDermott went for a drastic change from his side's usual attacking approach which almost paid off - but is focusing on defence really the way forward?
ROYALS RIGHT TO TRY TO SHUT UP SHOP
To put it simply, Reading's defensive record before they came to the Etihad Stadium was awful.
They had allowed opponents 306 shots on goal in 17 league games, more than any other top-flight team in the major European leagues of England, Spain and Italy.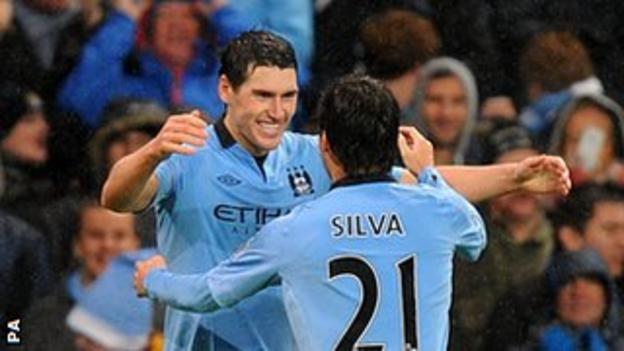 They also had the worst away record in the Premier League, with only two points from a possible 27, had conceded the most goals - 36 - and their possession percentage of 40% was also the lowest in the division.
So you can see why McDermott went with a 4-5-1 formation against City rather than his usual 4-4-2. Using the latter had seen them ripped apart in the first half by Arsenal on Monday.
The change almost worked. After his late winner for City, Gareth Barry said his team were surprised by Reading's approach because they are usually a lot more ambitious and creative.
City have scored in every home league game since a 0-0 draw with Birmingham in November 2010 so the likelihood was always going to be that Reading would have to score to leave with a point.
But, because of how well they defended, the Royals almost managed a draw without posing much of a threat at the other end.
McDermott's side often had eight or nine men in or around their own box, sometimes in two rows of four defending the width of the area and sometimes as a flat back eight, and City had no space to work in.
When they attack, Roberto Mancini's team like to come through the middle. They use the intricacies of David Silva, Carlos Tevez and Sergio Aguero, playing little passes in and around the area, but that is where Reading had the numbers and there was no way through.
It was only when City went wide in the second half and started putting crosses in that they began creating chances. That was obviously how they got their goal too.
CAN NEW RESOLVE KEEP READING UP?
The league table shows that Reading needed a new approach because whatever they were doing before the City game was not working.
The way they have gone about things this season has made them enjoyable to watch but it has also proved they cannot just expect to outscore teams.
Against City, they proved they could actually defend, and can threaten on the counter-attack too, like they did when they should have had a penalty for a foul on Jay Tabb in the second half.
But I fear the Royals' problems go further than how they line up.
It reminds me of when I was in the Derby side relegated from the Premier League with a record-lowest points tally in 2008.
The bottom line that year was that we were not good enough, no matter what formation we played in.
This Reading team is much better than the Rams were but, unless they get the right re-inforcements in January, they are still going to fall short.
SCORING GOALS KEY TO SURVIVAL
Reading need to win games and a 4-5-1 formation will only get them so far because one lapse of concentration will always cost them.
Reading definitely deserved a draw against City but they made one mistake in 96 minutes and that was all it took.
I always remember Steve Bruce, my manager at Birmingham, telling us "you are only as good as your strikers" in our first season in the Premier League in 2002/03.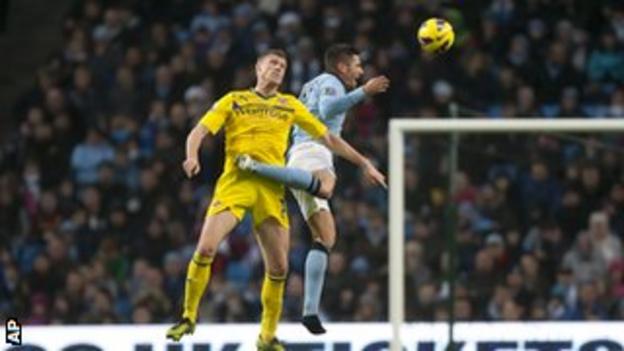 There has never been a truer saying for teams down the bottom of the table.
That year at Birmingham we had Christophe Dugarry to provide the main threat.
At Leicester, when we were trying to establish ourselves in the top flight, we had Tony Cottee and Emile Heskey and, at Blackburn, people like Benni McCarthy kept us out of trouble.
For Reading, I worry about them at the back but also their quality at the top end.
Adam Le Fondre has got five league goals but the rest of their forward players have not scored enough. Jason Roberts has not even managed a Premier League goal yet.
Reading epitomise their manager in that they are methodical and work exceptionally hard but, at the moment, they lack the quality they need to stay up, whatever system they use.