Portsmouth: Developer seals Fratton Park land deal
By Nabil Hassan
BBC South Sport
Last updated on .From the section Football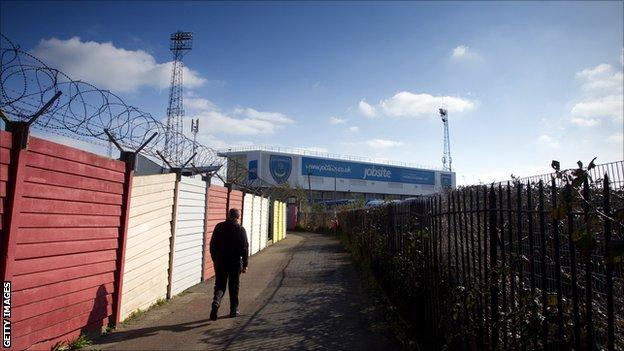 Property developer Stuart Robinson, part of the Pompey Supporters' Trust, has exchanged contracts to buy the land around Portsmouth's Fratton Park.
Robinson has now signed a deal to buy the land, an agreement regarded as vital to Portsmouth's future.
He also hopes to buy the stadium as the PST aims to take control of the club.
However, the purchase of Fratton Park is the subject of a court case that will be heard in January.
Administrators say they hope to complete a deal for the land in mid-February 2013.
The move is a show of faith from Robinson, whose involvement has recently been questioned.
Earlier this month, club administrators PKF asked for an adjournment until 15 January at a High Court case, arranged to force the sale of the Fratton Park, because of "a significant change in the terms of the transaction relating to REL (Robinson Estates Limited)".
Pompey have been in administration since February 2012 and are said to be £61m in debt.
The PST's potential takeover is dependent on them taking ownership of Fratton Park.
The ground is still controlled by former Portsmouth owner Balram Chainrai, who was offered £2.75m by the PST.
Chainrai is owed £12m by Portsmouth and holds Fratton Park as security, but his refusal to sell prompted PKF to go the High Court to try to force the sale.
The land around Fratton Park had been owned by Miland Development 2004 Ltd but was put up for sale after the company went into administration.
'Miland Acres' is almost 10 acres of car park and office space to the north and west of the stadium and is seen as pivotal to Portsmouth's future as it would finally allow Fratton Park to be developed.
The land was initially bought by former owner Milan Mandaric in 2004 and 2005, then passed to the club's next proprietor, Sacha Gaydamak.
The London-based French-Israeli businessman held on to the land as security for money he claims he was owed by the club until he placed Miland into administration in July 2012.
But the land is deemed to be practically worthless without control of Fratton Park as Portsmouth City Council will not grant planning permission for anything on the site unless Pompey's existing stadium is upgraded or they build a new ground elsewhere.
Reuniting 'Miland Acres' with Fratton Park would enable a new owner of the club to forge ahead with a complete redevelopment of the site.