Manchester City manager Roberto Mancini would savour second title
Last updated on .From the section Football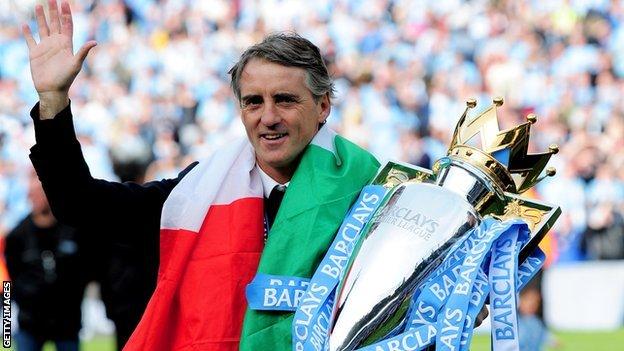 Roberto Mancini claims a second Premier League title with Manchester City would be better than the first.
"If we win this title it would be better because now we are in second position" said Mancini, whose side face Reading on Saturday.
"We have six points less [than United] and it will not be easy to win."
The Italian admits, however, much is dependent on how his side cope with the absence of Yaya Toure and Kolo Toure, who will participate for Ivory Coast in the African Cup of Nations.
Mancini had hoped Yaya Toure - recently named African Player of the Year - would opt out of the tournament, but now expects him to leave after City's FA Cup third-round tie against Watford on 5 January.
"We can have a good chance," he said.
"I am confident, [but] it will be very important in December and January when we lose players for the African Cup of Nations.
"If, at the end of January we are very close with them [Manchester United], we can have a chance."
Mancini conceded their city rivals have a stronger mentality, but insisted the teams are equal despite the six-point gap.
"Now they have more confidence because they are used to this every year for 20 years and their mentality is stronger than our mentality at this moment," said the 48-year-old.
"As a team, at this moment, we are on the same level. We showed this in the derby.
"We lost 3-2 but showed we are better in that game, but we have a big respect for United."
Manchester United manager Sir Alex Ferguson is also confident of his side's title chances, with his focus on topping the table at the turn of the year.
"I look at December as an opportunity to gather points," said Ferguson.
"If we are top of the league on New Year's Day we know fine well, and so does everyone else, that we are going to be in the ball park at the end of the season."
United travel to Swansea on Sunday looking for their sixth consecutive league victory, having not lost since 17 November against Norwich at Carrow Road.