Hearts signing embargo extended by Scottish Premier League
Last updated on .From the section Football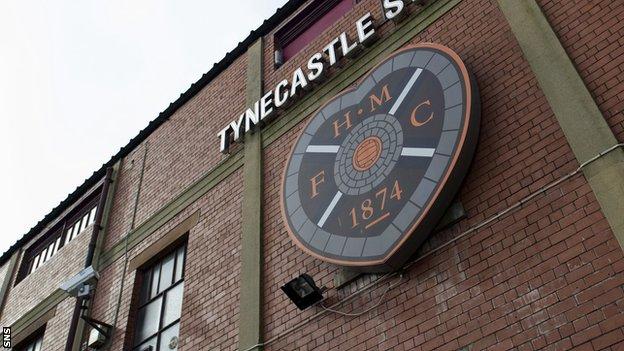 Hearts have had their signing embargo extended indefinitely for not paying "a number of bonuses and appearance payments due to players".
The Edinburgh club said in a website statement that it is "consulting with its legal advisors and will make no further comment at this time".
Hearts had hoped to have their current ban on transfers lifted by the Scottish Premier League next week.
But the SPL has announced that the club incurred a "remuneration default".
The club would be subject to an embargo "until such time as the SPL board is satisfied that the remuneration default no longer continues".
Hearts, whose current ban was the result of two consecutive months of late payments to players, will also be required to attend a disciplinary hearing before the SPL for breaches of its rules.
Following Saturday's 2-2 draw with St Johnstone, manager John McGlynn had insisted that all payments were now up to date and that he expected the embargo to be lifted once December wages were paid on time on 23 December.
And, in response to speculation in the media, a notice on the club's official Twitter page read: "All Scottish Cup final bonuses have been paid."
Meanwhile, it is believed that Hearts will argue that there is no fixed date in player contracts for the payment of appearance money.
The SPL announcement came as a statement was expected from the club outlining full details of their share issue among fans.
after majority shareholder Vladimir Romanov put approximately 10% of his stake in the company up for sale.
That total, mostly raised from supporters who have taken part in fundraising activities during the past eight weeks, is short of their £1.79m target.
Hearts director Sergejus Fedotovas had warned that, with a predicted £2m shortfall in funds by the end of the season, .
However, , presently with Siauliai in his Lithuanian homeland, as a January recruit to resolve their problems up front.
to ward off the threat of a winding-up order and agreed to pay £1.5m to HM Revenue and Customs over a three-year period following a separate £1.75m tax dispute.