Stephen Warnock: Bolton boss Freedman wants full-back to stay
Last updated on .From the section Football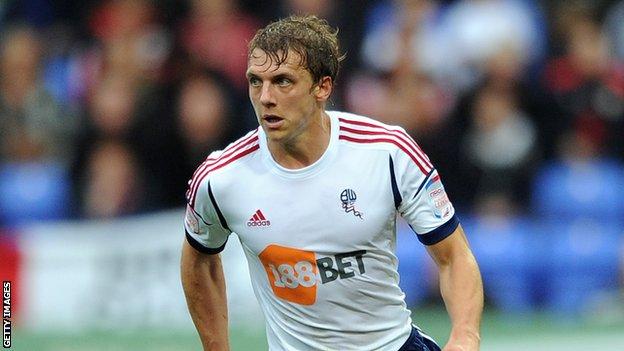 Bolton Wanderers manager Dougie Freedman is keen to bring Stephen Warnock back to the club in January.
The full-back after Saturday's trip to Peterborough.
Freedman told BBC Radio Manchester: "Stephen has done fantastic for us. We would like to look at that situation if Stephen would. The ball's in his court.
"If he expresses any interest in staying, we would certainly look at it. We've said to him that he needs to be comfortable with his decision."
Former England defender Warnock, 30, has played 14 times during his loan spell with Bolton.
Freedman continued: "He'll go away and think about it for a couple of weeks and then he'll let us know what he's feeling in January.
"If he tells us that it's all positive, I'll go to the board and explain why we should try and do something."
Meanwhile, the Scot has dismissed reports that South Korea winger Lee Chung-yong will be leaving the club next month during the transfer window.
"There's been no contact at all and he would be one of the last players that I would want to let go," said Freedman.
"He's been terrific for us since and I think he would like the Bolton fans to see the best of him."