January transfer window - is it worth spending money?
By David Ornstein
BBC Sport
Last updated on .From the section Football90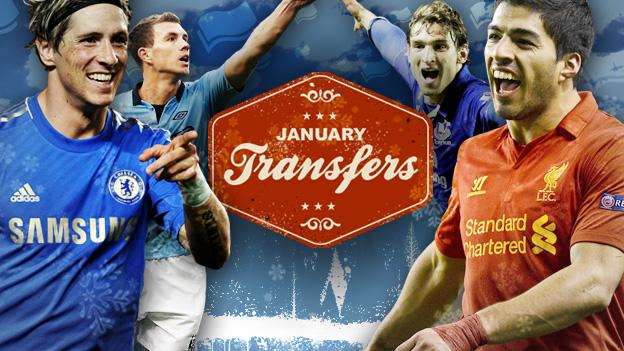 From Fernando Torres to Andrey Arshavin; Andy Carroll to Afonso Alves, the January transfer window is sure to deliver an eye-popping deal or two - but one thing it cannot guarantee is success.
While the £925m spent in the last nine winters is dwarfed by the £3.685bn outlay across the past 10 summers, there is a feeling this January could feature unprecedented levels of activity.
"There will be business opportunities like never before," ex-Liverpool and Tottenham director of football Damien Comolli told BBC Sport.
"With the new £3bn TV rights deal starting in July, Premier League clubs have a clear vision of their income for the next three years and know they've got a big ability to spend a lot of money.
"In addition, the rest of Europe is struggling financially. Teams in France, Spain, Portugal, Belgium, the Netherlands and Italy are all looking at the Premier League and saying, 'You can have any of my players'.
"I've never seen a seller's market as it is now - you've got sides in Europe who are ready to write off their seasons and clear their wage bills. They are literally saying, 'everybody is for sale'."
The January window is not popular with everyone, but there can be little doubting its effect on the Premier League landscape.
It has the capacity to make or break seasons, ignite or halt a push for glory, aid or hamper survival bids and build or destroy reputations.
"I'd like to go back to old system when the window was open from the start of summer until March of the following year," said Stoke boss Tony Pulis.
"If poor form or injuries mean you have to sign players in January, you're putting them under huge pressure to make an instant impact.
"But you can certainly do good business. If we didn't buy James Beattie and Matthew Etherington in January 2009 - our first season in the top tier - there's no doubt we would have been relegated."
Beattie and Etherington came at a cost of £5.5m, with Beattie scoring seven goals and Etherington providing three assists as Stoke climbed from 18th on 1 January to 12th.
Both players were signed from British clubs and that has been the way with 59% of all January spending in the Premier League since 2003.
"If you make winter signings it's usually because of a clear, immediate need," said Alan Switzer of the Sports Business Group at Deloitte.
"Getting a player who needs little time for adjustment is preferential. Unless you are buying for the future, you really want people to hit the ground running."
Everton got exactly that when they signed Nikica Jelavic, Darron Gibson, Steven Pienaar and Landon Donovan 12 months ago, rising five places in the league and reaching the FA Cup semi-finals.
Newcastle moved from seventh to fifth with the aid of 13 goals in 14 games from Papiss Cisse, while Djibril Cisse's six goals in eight matches contributed to QPR avoiding relegation.
A year earlier, Luis Suarez scored for Liverpool against Stoke two days after signing from Ajax, despite never having trained with his new team-mates. Aston Villa leapt six places as Darren Bent joined from Sunderland and struck nine goals in 16 games.
But for every hit there is a miss - think Alves to Middlesbrough (£12.7m), Savio Nsereko to West Ham (£9m), Wayne Bridge to Manchester City (£12m) and Zoran Tosic to Manchester United (£7m).
The jury is still out on Arshavin to Arsenal (£15m), Edin Dzeko to Manchester City (£27m), Torres to Chelsea (£50m) and Carroll to Liverpool (£35m).
"You can get people who will come in from abroad and turn water into wine straight away, but there are other players who need an integration period, they need time," Pulis explained.
"It's like marriage - until you actually tie the knot you don't know what it's going to be like."
January is further complicated by time constraints, possible European and domestic cup ineligibility, and the determination of clubs to keep hold of their best players.
It means prices are usually inflated by the selling party and, as a consequence, most of the business will be done by certain clubs or teams in particular parts of the league table.
Chelsea and Manchester City have been the biggest January spenders, Tottenham and Liverpool are not far behind and Aston Villa, Newcastle, West Ham and Wigan need little invitation to open the cheque book.
In the last five seasons, the top net spenders by position are fourth, fifth, 16th, third, 15th, 17th and 18th, illustrating the importance of qualifying for the Champions League and avoiding relegation.
Two of the four lowest net spenders are first and 20th, suggesting the league leaders believe their existing squad can see them to the title and the bottom side know their chances of survival are minimal.
"Normally the top two are pretty settled and don't need to spend much - Manchester United have historically never been big spenders in January window," Switzer said.
"You occasionally get one or two clubs who are cut adrift at the bottom and, while not accepting relegation, may be preparing for the worst."
There is, of course, no guarantee spending heavily will improve matters or that keeping the purse strings tied will have a negative effect.
Manchester City's average January outlay of £10.9m has resulted in an average finishing position of ninth. Manchester United, Arsenal and Everton on average spent £3.6m, £3.6m and £1.4m, but have average finishes of second, third and eighth.
It was interesting that instead of dipping into the market in 2009, Manchester United sought the internal solution of 17-year-old Federico Macheda and he scored two vital winners as the Red Devils rallied from third on 1 January to secure an 18th Premier League title.
Winter spending - or lack of - does, however, appear to have a fairly significant impact in and around the relegation zone.
The average January outlay of the last 15 relegated clubs was £2.47m (£0.75m net), compared to the £4.4m (£3.75m net) paid by the eight teams who were in the relegation zone on 1 January but survived.
Of the eight sides who went down at their expense, the average spend was £2.65m (£0.9m net). Was it a surprise that Newcastle slipped from 14th to 19th in 2009 when their net spend was £-7.9m?
With hindsight, the Magpies might have opted to keep hold of Shay Given and Charles N'Zogbia. Likewise, Blackburn with Christopher Samba last January and Bolton with Gary Cahill in the same window.
"It's more important not to sell a key player than it is to buy one because it can take time for a replacement to settle," said agent Leon Angel from Base Soccer.
"I could see a major deal at the top end this January, but it's more likely there will be a lot of loan signings. Sound financial management is becoming increasingly important and fewer clubs are willing to gamble.
"The reward of being in the Premier League is balanced by the knowledge that three teams have to be relegated. So a loan, possibly with the option to buy, may be the most prudent approach."
Does that indicate this will be a low-key window after all?
"No," added Switzer. "We see spending being well in excess of the £60m from January 2012. It's doubtful whether it will beat the record of £225m from 2011, but we wouldn't be surprised if it was £100m or above."