Gary Roberts: Swindon midfielder accepts drop from squad
Last updated on .From the section Football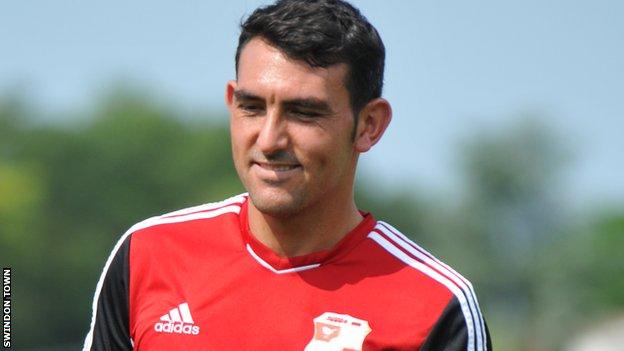 Swindon Town midfielder Gary Roberts says he deserves to be dropped from the squad after a run of poor performances.
The 28-year-old has played 18 games in his first season at the County Ground, but has come off the bench in his last four appearances.
"I know I've been below par and I think I deserve to be out [of] the side," the Wirral-born winger told BBC Wiltshire.
"I haven't done enough to get in the team. I haven't scored enough goals or played well consistently."
Roberts was released from Huddersfield following their promotion to the Championship in the summer.
He signed a two-year deal at Swindon but has struggled to maintain his fitness levels since making the move.
The midfielder tore his calf muscle at the start of the season, which kept him out for the first month of the League One campaign, and has been sidelined with the same issue in recent weeks.
"I don't know whether it's a lack of confidence after niggling injuries but you can't make excuses," he continued.
"I worked really hard [in pre-season] and it was probably the fittest I've ever been. I was looking forward to getting in to the season but to get a torn calf four days before, it knocked me for six.
"But you need to get your head down on the training ground and try and get back to basics, as you don't become a bad player overnight.
"Hopefully the tide will turn and I can put some good performances in for the club. I want to show why the manager brought me here.
"Confidence is a big thing but I'm old enough and experienced enough to get my head down and try and put things right."