West Brom's Peter Odemwingie says teams wary of Baggies
Last updated on .From the section Football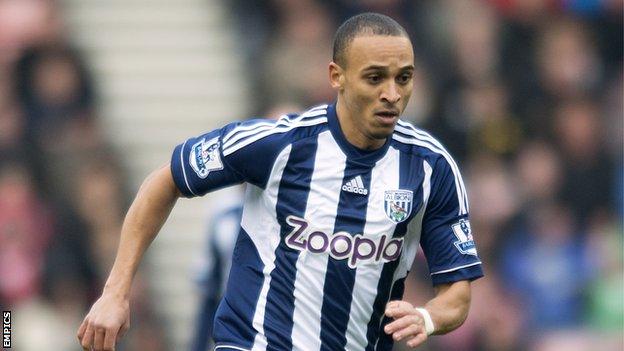 West Brom forward Peter Odemwingie feels other teams have become more cautious when playing the Baggies after their impressive start to the season.
"They've seen we have quality and pace. I've noticed people play more careful against us now," he told BBC WM.
"It becomes a bit more difficult but that's when you need to show character and belief that we are growing."
The Nigeria international added: "We have been doing well this season, and we've had a bad three weeks, but hopefully we can score goals again."
West Brom's slight dip in form has seen them slip to seventh in the table, but despite faltering they still remain only two points off third-placed Chelsea.
However next month they face the prospect of being be without Odemwingie, who could travel to South Africa for the Africa Cup of Nations.
But the 31-year-old believes that the West Brom squad can push on in his absence.
"I want to be going there in the new year with West Brom high in the table which would help me emotionally," Odemwingie said.
"Of course I will miss a couple of weeks of action here, but I believe we have a squad that can hold on to the good start we have had."