John Coleman allows Rochdale fans to air frustrations
Last updated on .From the section Football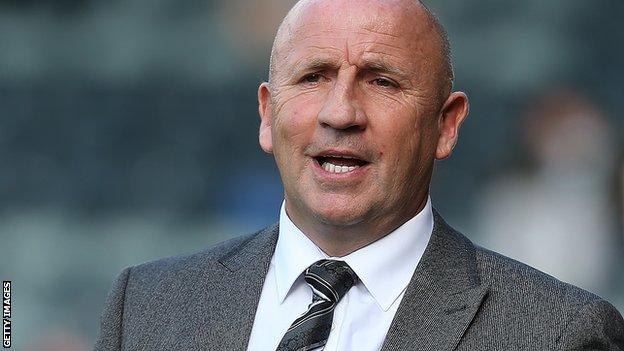 Manager John Coleman has given Rochdale supporters the opportunity to air their views and frustrations about the club in a series of one-to-one meetings.
Coleman has been and his side's current form in League Two.
He spent five hours in discussions after appealing for fans to meet him.
"It is easy to speak to people when you're winning, but I have never been one to hide away from things," Coleman told the club website.
"I have never been one to shy away from hard work or go into my shell when times are tough - I always come out fighting.
"I know I can come across as being a bit miserable and, because of that, I don't think supporters realise how much we care. I think when people get to know me, they realise that I'm not a bad egg."
Dale, who suffered relegation at the end of last season, have been in and around the play-off places for much of the campaign.
But four consecutive league defeats, in which Rochdale have conceded a total of 13 goals, have seen them slip to 15th in the table.
Speaking after Coleman told BBC Radio Manchester: "All I can assure the fans is, if they're hurting, think how I'm feeling - you can probably magnify it by 100.
"I've been a successful manager for 15 years and I'm not going to change my style of management.
"I'm learning all the while, there are areas I can improve on, but everything I do is try and get Rochdale to where I want them to be, which is promotion."