Paolo Di Canio's 'hostile' comments misinterpreted - Patey
Last updated on .From the section Football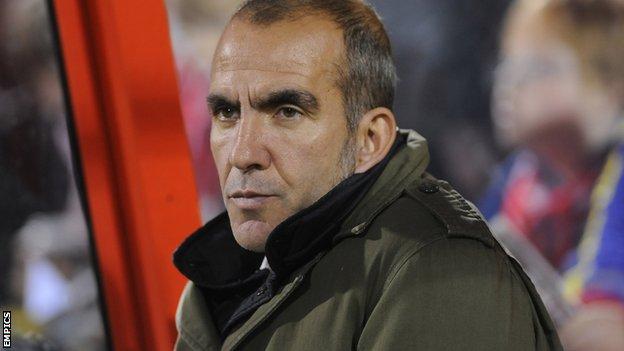 Swindon Town chairman Sir William Patey has insisted manager Paolo Di Canio's negative comments about the League One club were misinterpreted.
But former diplomat Patey claims the Italian was misunderstood because English is not his first language.
"He accepts he said those words but in terms of what he meant, it was very different," Patey told BBC Wiltshire.
"I know what it's like to do press conferences in another language. It's difficult and you don't always choose the words that are most appropriate.
"You don't always have the right words at your disposal when it's not your native language and I think you have to make allowances for that."
Patey arrived at Swindon as a direct replacement following the departure of former chairman Jeremy Wray - the man who initiated the appointment of Di Canio in May 2011.
Wray and Di Canio were known to have a close relationship and the Italian has been publically critical of the board since Patey's arrival.
But the current Swindon chairman is adamant that their working relationship is strengthening.
"Paolo is missing the regular contact he had with Jeremy, but I have other commitments in London so I'm not around the club all the time," said Patey.
"He's had to get used to a new relationship. I'm completely new and he doesn't know me and it doesn't happen over night.
"He has no problems with the board. We're working closely and we're establishing a good relationship."