Can Arsenal afford to lose Theo Walcott in January?

By Phil McNulty
Chief football writer
Last updated on .From the section Football323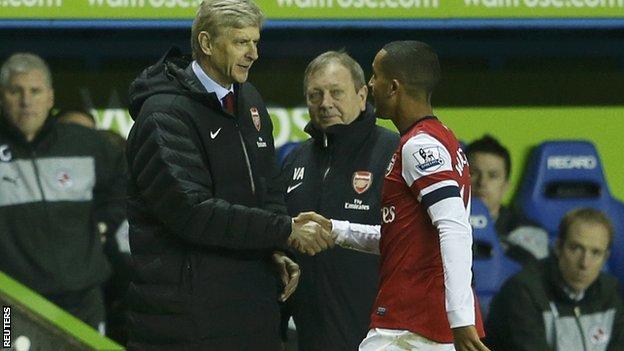 The contract deadlock that currently separates Theo Walcott from a long-term Arsenal future may have made a small but significant move towards resolution amid Arsene Wenger's so-called "super crisis".
Walcott's reluctance to sign a new contract does not merely revolve around a desire to see Arsenal increase the £75,000-a-week reportedly on offer - he wants assurances about regular action as a central striker.
Gunners' boss Wenger has found it easy to resist this temptation, falling instead for the allure of using the 23-year-old England attacker's burning pace on the flanks rather than through the middle.
This was until Wenger sifted through the wreckage of the Capital One Cup embarrassment at League Two Bradford City and prepared, amid an avalanche of justifiable criticism, to start on the road to rehabilitation at Reading.
Wenger decided, based on the evidence of training sessions, to grant Walcott at least one of the wishes he wants to see fulfilled before ignoring the attentions of Liverpool, Chelsea and both Manchester clubs and extending his stay at Arsenal.
Walcott was unleashed through the middle and produced a powerful case for Wenger to examine by playing a pivotal role in an emphatic 5-2 victory that moved Arsenal up to fifth in the Premier League.
Wenger light-heartedly referred to Arsenal's "super crisis" - although he did not need prompting to describe their plight as "a crisis" - and the performance of Walcott suggested he will be of great service to his manager should he wish to improve the team's condition further.
Arsenal still had an unmistakeable air of vulnerability at the back, not least when switching off from a rout to allow Reading to pull back two goals at 4-0, but Walcott led a potent strike force.
He terrorised Reading's defence, a defence which did not take much terrorising, with sheer speed. But he also demonstrated composure to score Arsenal's fifth and ease a few frayed nerves which had even Wenger admitting: "At 4-2 I saw your headlines coming."
Santi Cazorla was the main man with a hat-trick but a front three of Lukas Podolski on the left, Alex Oxlade-Chamberlain on the right and Walcott as the spearhead looked threatening enough, even though all praise must be framed in the context of a thoroughly incompetent Reading defensive display.
This was one half of Walcott's wish list ticked off for now and the bigger question for Arsenal is can they seriously allow a young, developing talent like this to join the long list of departures from the club?
If Wenger is now ready to play Walcott through the centre, this presumably means only financial details need to be ironed out, especially as the feeling is that he would be a genuinely reluctant leaver.
Chief executive Ivan Gazidis talks boldly of how Arsenal will compete with the world's best in two years. Surely an early statement of intent would be swiftly securing the deal that ensures Walcott does not follow the likes of Cesc Fabregas, Samir Nasri, Alex Song and Robin van Persie out of the door?
Arsenal's fans packed in a corner of The Madejski Stadium, and in far better heart than they were a week ago, made their feelings clear. The night was constantly interrupted with chants of "Wenger, Wenger Sign Him Up" after every meaningful Walcott intervention. And there were plenty.
Walcott is not an undisputed world-class talent in the mould of Van Persie, but he has shown enough and has enough room for more potential to be fulfilled for Arsenal's supporters to know it would be another damaging signal should he move to one of their Premier League rivals.
For now, though, they will just be happy for Arsenal to continue what was shown at Reading. Their season will not be judged on victories such as these, impressive as it was, because they simply made very good, efficient work of thrashing a hapless punchbag of an opponent.
This was a job well done but Arsenal's real quality will be assessed by how they fare against those around them near the top of the Premier League.
The little wobble that saw Reading go from 4-0 down to 4-2 hinted again at the fallibility that exists once you scratch beneath Arsenal's surface. That will be exploited by better opponents than those they faced on Monday.
Reading look relegation certainties on this evidence. It should be remembered though, that manager Brian McDermott has taken the club a long way in a very short time and it is understandable that some of his players now sadly find themselves out of their depth.
They are currently not good enough to rise up the Premier League. No shame in that as it is not for any lack of effort, but it may make for a long, unforgiving season.
Amid all the recent Arsenal gloom they can take plenty away from Reading to cheer them. Cazorla is a player of quality but perhaps most heartening of all is the manner in which Jack Wilshere continues his return after such a long absence through injury.
He was superb again; showing a great range of passing and also an ability to mix it in the physical exchanges.
It was a good news night for Wenger and he then talked of his hopes for "a happy ending" to the Walcott contract saga. Arsenal's supporters clearly share those wishes.