Aaron Ramsey tries too hard says Arsenal legend Frank McLintock
Last updated on .From the section Welsh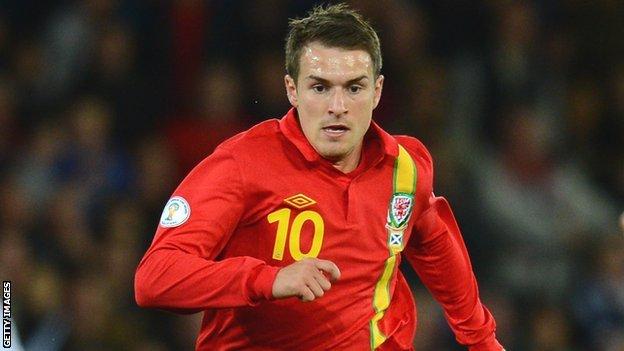 Arsenal great Frank McLintock believes that Aaron Ramsey is trying to do too much on the pitch.
The 21-year-old's form has slumped recently and in favour of Ashley Williams last October.
"Aaron is doing what I did when I first went to Arsenal... I tried too hard as well," McLintock told BBC Wales Sport.
"I tried to do everybody's work, and I think that's what Aaron is trying to do now."
Ramsey had to be content with a place on the bench on Monday night as Arsenal trounced Reading 5-2, coming on for Alex Oxlade-Chamberlain in the 74th minute with the game won.
"He's a lad that's got a great engine in him, he's got a good honest attitude," McLintock said.
"It's a great aspect to have but... he's trying to do everybody's job and he should concentrate a little bit on doing his own work and perfecting his own game.
"But he's playing quite often wide right, I don't know why [Arsenal manager] Arsene Wenger puts him there, he did that with [Nicklas] Bendtner last year.
"One of the attributes that Aaron hasn't got is pace, and when you've not got pace and you're playing wide and you're trying to take full-backs on it's very difficult."
McLintock signed for Arsenal from Leicester City for a then British record £80,000 in October 1964 and played for the Gunners until 1973, leading them to the Football League and FA Cup double in the 1970-71 season.
The Scotland international was signed as a wing-half and admits he initially struggled, seeing similarities with Ramsey in trying to do too much and not keeping to his own set task within the team.
A move to central defence helped McLintock find that discipline and he believes that allowing Ramsey to play in his more natural position would also aid the Cardiff product's game.
"His natural position is in the centre of midfield... and I would just love to have a chat with him and tell him to improve his performance by a long way by just simplifying his game," McLintock added.
"I feel he takes too many touches on the ball... if he could only just take a lesson off Paul Scholes of Manchester United.
"When you see the two of them playing the difference between the two is amazing: he [Scholes] has already scanned the field before he gets the ball... he is minimum effort and maximum performance.
"He's trying to over-complicate it, he's running here with the ball, he's checking, he's going the other way, he's checking again.
"He'll decide to sometimes play the ball and go for an overlap but before he gets halfway there the ball has been put into the box and people are out of position then.
"I'm not trying to sound too critical, I'm actually trying to give him a little bit of advice and my opinion."