Manager John Hughes shares blame for Hartlepool defeat
Last updated on .From the section Football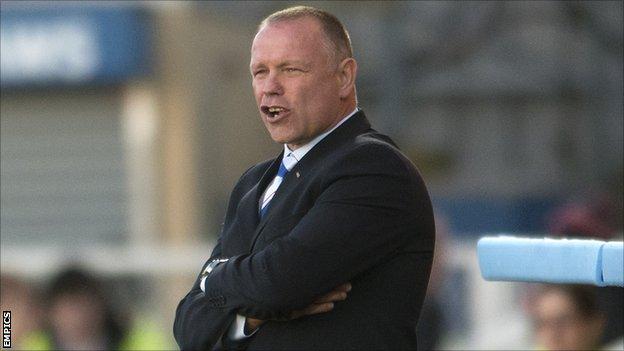 Manager John Hughes said he must take a share of the blame for Hartlepool's 1-0 defeat at MK Dons on Saturday.
Pools attempted to match the Dons' slick passing style and Hughes admitted they could have been beaten by more than a single goal.
Hughes said: "As a coach and a manager sometimes you have to ask: 'Was it me? Did I get it tactically wrong in the first half?' And possibly I did.
"I should have given more consideration to the quality of the MK Dons."
The result means Hartlepool have taken one point from Hughes's five matches in charge and remain a long way adrift at the bottom of League One. They have won just one of their 22 league games this season.
"I have to look at Hartlepool, where we are and what we've got, where we're going, how do we win football matches," said Hughes.
"We have to get a shape, get a team, a formation, a style of football that's going to give us a chance. It might be horses for courses, one week we go and play real good football, and the second week we might have to be more direct. It's getting that balance."
Hughes changed tactics after the Dons had dominated the first half at Stadium MK and the improvement was apparent.
"I wanted to see if we could pass them and play them and we were a good bit off that, so we went more direct and I felt that gave us more of a foothold in the second half. We gave the fans a little bit to get excited about," Hughes said.
"Sometimes you have to listen to your senior players and to your dressing room and come up with a system and balance and style of play they are comfortable with. Against MK it wasn't the passing game we tried to play."