Chelsea in Japan: Players whip up 'Beatlemania'
By Richard Conway
BBC Sport in Yokohama
Last updated on .From the section Football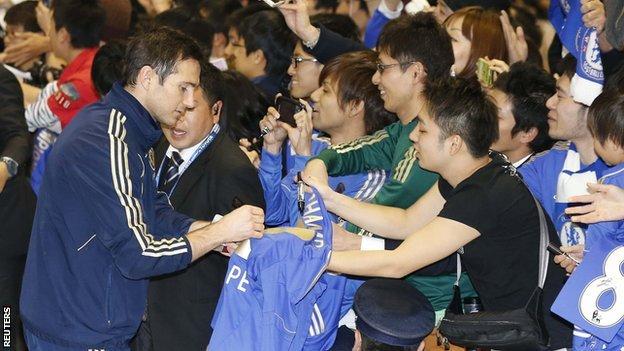 For around 200 years up until the mid-19th century, Japan adopted a position of isolation. Sakoku, literally meaning "locked country", ensured virtually no foreigners visited these islands.
If the country's rulers from that period could see the land today, where the Fifa Club World Cup is being held, they would struggle to recognise it.
Japan has welcomed all six continental club champions, plus thousands of fans, for this annual competition which concluded with Corinthians triumphing 1-0 over Chelsea.
This is the last year the Club World Cup will be held in Japan, with the annual tournament moving to Morocco for a two-year period from 2013.
Local fans have relished the chance to see their football heroes up close, knowing it could be years before their team returns.
Chelsea's hotel has been the focal point for much of this fan activity. Throughout the day and late into the night, hundreds congregated outside their central Yokohama residence.
Pressed against crush barriers, and with often over-zealous security on constant patrol, the screams and cheers when the team emerged to board their bus to training or to go to the stadium was reminiscent of 1960's Beatlemania or perhaps a Justin Bieber concert.
And with Chelsea's own mop-top, Fernando Torres, always ready to sign a shirt or pose for a picture, the club have their own special weapon as they seek to win hearts and minds in Asia.
Well, perhaps more hearts.
"Torres! I love Torres!" said 19-year-old Hikari Hayashi from Yokohama. "He's so cool - and cute!"
Together with her two friends, Hikari visited the team hotel every day of Chelsea's visit in a bid to see the Spanish striker.
Finally, on Friday, she got her wish and saw Torres as Chelsea's £50m striker walked from the hotel lobby to the team's waiting bus. A fleeting glimpse perhaps but more than enough for this teenage girl.
"When Barcelona were here last year I went to see them but I couldn't see much. Torres is the coolest because I saw him up close," she said.
Will she always love Chelsea though?
"That depends on if Chelsea play good. Then I'll decide if I'll be a fan."
As commercial directors at Premier League clubs are all too aware, the loyalties of fans in this region are not set in stone.
Across town in "Celts", an Irish bar in Yokohama's Kannai district, fans gather to watch live Premier League games that start late on Saturday night given the nine-hour time difference.
A few of the regulars were gripped by the action from St James' Park as Premier League champions Manchester City put three goals past Newcastle United.
They have all recently started following Manchester United after the transfer of Japanese international Shinji Kagawa from Borussia Dortmund to Old Trafford this summer.
They feel that has given them a stake in the club, although they are likely to switch to another club once Kagawa inevitably bids farewell to Old Trafford. Or maybe they'll stay fans? It's hard to say right now.
This is football as pure entertainment - a commodity; a brand. It's a world view that means loyalty to a club is as interchangeable as the make of trainers you buy.
Large numbers of fans in Japan and Asia are fiercely loyal to the club they have adopted but a new breed of fan has emerged, for whom the traditional rules do not apply.
This phenomenon is unrecognisable to supporters in Britain, who follow their team passionately and tribally week to week - but what does this mean for the Premier League?
The economic reality of football is that the great push East must continue, else clubs are left languishing in the race to further riches.
Financial fair play also means that clubs who want to continue spending big money on transfers and wages must balance their books.
Increasing turnover by attracting a new set of motivated "customers" is therefore a must for most top clubs.
At the forefront are Manchester United, who have recently opened a commercial office in Hong Kong - adding to those operating in New York and London - to "monetise" the burgeoning number of fans eager to connect with the club.
The recent Premier League TV rights deal for this part of Asia also tells its own story on the rise in popularity of English football.
The final figure that IMG Media paid for the right to broadcast 380 Premier League games in Japan, Vietnam and Mongolia from 2013 to 2016 is expected to be a significant increase on the previous deal.
The transfer of Kagawa played a significant role in the amount that the Premier League were able to negotiate for those rights.
Foreign rights for 2010 to 2013 garnered £1.437bn and, while the deals for the new period are still to be completed, it's expected the final figure will top £2bn.
Domestically the TV rights have been sold for a combined £3bn to Sky and BT - a near 70% increase on the previous deal, leaving £5bn to share out among England's elite.
So Japan's interest in the English game simply echoes that of other countries, with the owners and money men of the Premier League only too aware of the huge potential to win new fans - even if it is a temporary arrangement at times.
It's definitely football - but for fans back in England, it's not as they know it.