Manchester City embark on new era
Last updated on .From the section Football187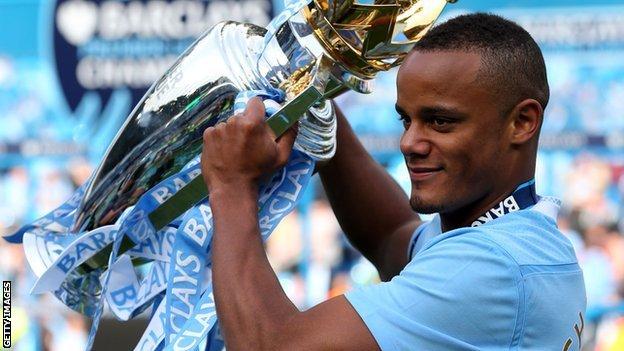 Manchester City's annual report for 2011-12 is a manifesto for a club "on the verge of a historic transformation", as their new chief executive Ferran Soriano puts it.
Tom Cannon, Professor of Strategic Development at the University of Liverpool Management School, told BBC Sport: "The positive certainly outweighs the negative in this report.
"This is a club that is definitely moving in the right direction."
There are undoubtedly some impressive figures in the 59-page report.
Turnover is up more than 50%, from £153.2m in 2010-11 to £231.1m, putting City alongside Manchester United, Arsenal and Chelsea in an elite group of English clubs with turnover more than £200m a season.
Two words that recur throughout the tome are "transformation" and "sustainability" and it's made clear that the days of colossal transfer spending are over.
"Strategy has transitioned from rebuilding to refinement," says chief operating officer Graham Wallace.
Chairman Khaldoon Al Mubarak explains that the club is now moving onto the next stage of owner Sheikh Mansour bin Zayed Al Nahyan's grand plan.
"He identified the need for significant investment in the early years to enable the club to become successful and sustainable over time," writes Khaldoon.
The average age of the first team squad is down to 24 and youth development is now a priority.
City's academy was awarded category one status by the Premier league in July 2012 and a new 'City Football Academy' was approved by the city council in December 2011 and is due to open in 2014-15.
The centre will have 16 full-sized pitches, a 7,000-seater stadium, 50 full-time staff and state-of-the-art training facilities.
"It will help to achieve the owner's original objectives for a sound and sustainable organisation," says Mubarak.
Cannon believes the report has been written primarily for three audiences - the community, fans and Uefa. City's losses far exceed those permitted under Uefa's financial fair play rules, yet they have shown they are taking measures to reduce their losses and are moving in the right direction.
"If they can get as far as the semi-finals in next season's Champions League I think they will even break even for 2013-14," says Cannon.
Significantly, clubs are allowed to spend up to £15m on their academies without this counting towards financial fair play.
Other positives highlights in the report include revenue from commercial partnerships going up more than 100% from £48.5m to £97m and the 45m visitors to their award-winning website.
However, there is still work to be done.
City's wage bill went up from £151.6m to £178.1m for example. And even though the report emphasises the fact that five academy players made their first-team debuts in 2011/12, Karim Rekik, Luca Scapuzzi, Denis Suarez, Frederic Veseli and Joan Roman have hardly gone on to become household names.
Furthermore, there is little sign of other academy players establishing themselves in the first team.
The Blues won their first league title since 1968 in a thrilling end to the 2011/12 season.
Yet they are now six points behind local rivals Manchester United in the Premier League, and are recovering from a humiliating Champions League campaign that saw them garner just three points from six group matches.
Manager Roberto Mancini has criticised the club for failing to land his summer transfer targets and suggested some serious recruitment is required if he is to quickly win silverware both at home and in Europe.
Is he right? And, after reading the report, will the owners fund the types of signings he wants?