St Paul's beat Premiership leaders Jersey Scottish 3-0
Last updated on .From the section Football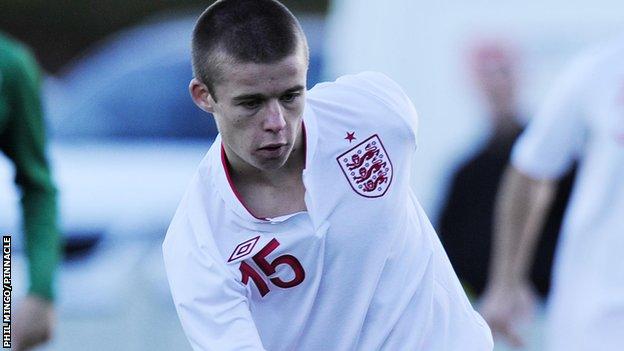 St Paul's ended the 100% record of reigning champions Jersey Scottish and moved above them in the table after a 3-0 win at Close des Pauvres.
Teenager Jay Giles opened the scoring for St Paul's with a looping header after 21 minutes.
The second came when James Scott brought down Bradley Russell inside the box just before half-time and Jack Cannon converted the resulting penalty.
Luke Watson sealed the win with a glancing header after 86 minutes.
The two sides are now locked together on 21 points from eight matches, but the win lifted St Paul's above Jersey Scottish on goal difference.
Elsewhere in the top flight, third-placed Jersey Wanderers' clash with local rivals St Peter and Grouville's trip to St Brelade were called off, but second-from-bottom St Lawrence stayed in touch with the sides immediately above them with a 4-0 win over Rozel Rovers.
Matt Westwood had a 62nd minute penalty for Rovers saved by Jose Figueira with the score at 0-0 before Nathan Maguire scored twice for the parish side and Luke Maguire and Ben Le Fondre also found the net late on.
In the Championship, third-placed St Clement are just a point behind second-placed First Tower after a 6-1 win over Sporting Academics, James Jones and Michael Le Turgeon each scoring twice for St Clement.
Meanwhile, Tower progressed to the second round of Championship's Touzel Trophy with a 2-1 victory over St John.
Ciaran Hocking scored after a minute for Tower and Adam Lester added the second for the promotion-chasing club.