Stan Kroenke 'has no passion' for Arsenal according to ex-director
Last updated on .From the section Football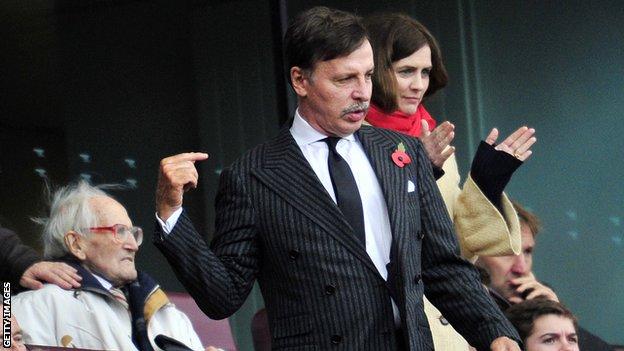 Majority shareholder Stan Kroenke has been accused of "having no passion" for Arsenal by honorary vice president, and former director, Lady Bracewell-Smith.
She continued: "Football is a business of passion. SK has no passion for AFC."
Arsenal, beaten by Bradford in the League Cup, could not be contacted for comment.
When asked her view of the way the club is being run, Bracewell-Smith added: "Disappointed would be an understatement!
"[He] shows he cares very little. Why he wanted to be part of AFC I do not know."
In October Kroenke insisted Arsenal are still targeting trophies despite the Gunners selling captain Robin van Persie to rivals Manchester United in August.
Van Persie's departure followed the sales of Cesc Fabregas and Samir Nasri the previous summer.
There is also uncertainty over the future of England international Theo Walcott, whose contract expires next summer.
Meanwhile, former Arsenal and England striker Paul Mariner has backed Arsenal manager Arsene Wenger to turn things around at the club.
Arsenal have only won one of their last four Premier League games and were knocked out of the Capital One Cup by League Two Bradford on Tuesday.
"Arsene Wenger is a fantastic manager, he always has been and always will be," Mariner told BBC Sport.
"He's the right man both business wise and football wise to get it right. I've got no doubts that he'll pull it around.
"I think that teams have blips and everybody always looks at the manager, but the players have got to stand up and be counted.
"The January transfer window is an opportunity and there's nobody better at picking talent out from various parts of the world than Wenger."