Celtic manager Neil Lennon is motivated by fear of the sack
Last updated on .From the section Football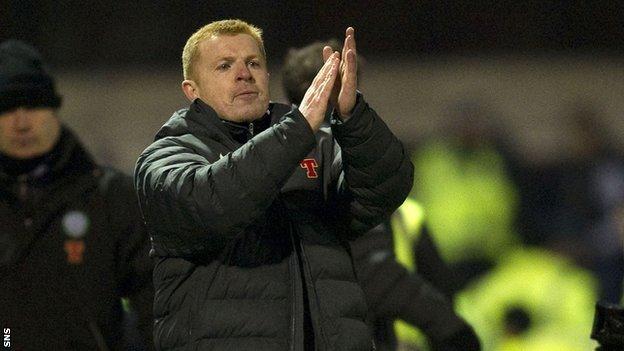 Celtic manager Neil Lennon says fear of getting the sack keeps him motivated in his job.
Lennon would like long-term stability at Celtic Park but, with the way management works, he will be happy to be in the job this time next year.
And the former club captain feels his dream job would be managing Celtic in England's Premier League, if that could ever become a reality.
"I would like longevity in the job no matter where I am," Lennon said.
"I don't think you can ever get comfortable in a manager's job unless you're [Manchester United manager] Sir Alex [Ferguson], who deserves to be in that way.
"I've been here 12 years as a player. I know the environment and the standards required.
"The one thing I fear the most out of the job is the sack. I think that's the same for most managers."
Lennon believes the love of the game is what keeps managers going.
"It's because we're a wee bit nuts at times as well and because we still have the kid in us as well, I suppose," he added.
"We love the game and that'll never change.
"I was asked by the BBC, would I ever entertain going to work in England? I said, 'well, if the scenario came around then I would have a look at it'.
"But I've got so much work to do here. The ideal scenario would be managing Celtic in the Premier League.
"So, if that scenario ever comes around, that'll be even better."