Rio Ferdinand backed by Man Utd team-mate Ryan Giggs
Last updated on .From the section Football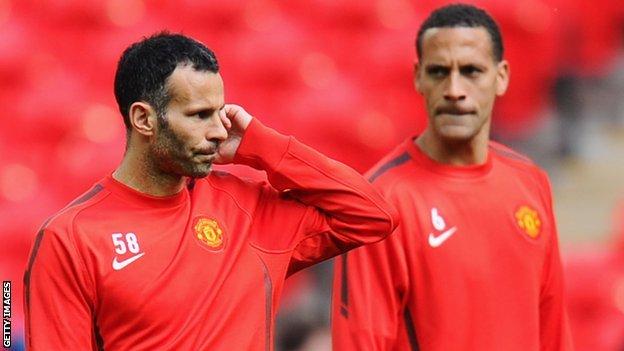 Ryan Giggs says Manchester United's players are blameless for the incident that led to Rio Ferdinand being struck by an object in the Manchester derby.
United defender Ferdinand, 34, was struck near his eye following Robin van Persie's winner in the 3-2 win at Manchester City on Sunday.
There have been suggestions Ferdinand celebrated too close to City's fans.
But Giggs said his team-mate's reaction was understandable, adding: "As a player you want to celebrate."
Giggs watched from the substitutes' bench as the events unfolded at the Etihad Stadium.
He said: "When you score a goal like that you don't have control of yourself.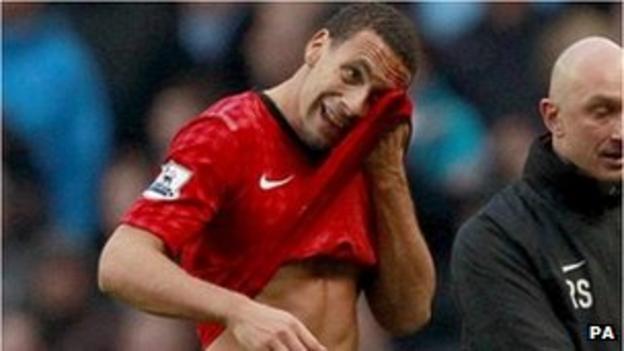 "First of all it's tough at City because their hardcore supporters are right next to our supporters.
"When they are so close together how can you determine whether you are just celebrating in front of United fans?
"If you just scored that goal and walked back to the centre circle, United fans would want to know 'what's going on there?'. The manager would be like 'what you doing? Celebrate'.
"We have stamped it out going into the crowd, you get an instant booking.
"You have still got to enjoy that sort of experience, but obviously the players and fans can't go too far."
Police are still trying to identify the person responsible for throwing the object at Ferdinand. City condemned the incident and apologised to the player.
In total, nine people were charged by police after the Manchester derby at Etihad Stadium.
Giggs said it was not isolated and that he was 'hit' after Javier Hernandez scored for United at Chelsea earlier this season.
"It happens," he added. "I think it's tough for someone to get hit in the face, for everyone to sort of make a big a thing out of it.
"I got hit at Chelsea when Javier Hernandez scored.
"It's not just one club, it's not just City, it's not just Chelsea.
"Every club, the excitement and the passion we all want but we don't want it to tip over the edge.
"A centimetre either side and Rio loses an eye, it's so dangerous. We don't want to see it.
"It is up to the clubs and the police, the FA to do everything in our power to make sure it doesn't happen again."
Chelsea's Gary Cahill told BBC Sport that he thinks the incident was a rare occurrence.
"It's unfortunate but they are rare," said the Chelsea defender. "I don't think it needs to be dwelt upon, or people need to go too overboard on the situation. The majority of the time we go to the games and personally, touch wood, nothing's ever happened to me.
"Sometimes you can't help some individuals when they just do crazy things."