Craig Thomson backs Scottish referees
Last updated on .From the section Football
Scotland's most senior referee Craig Thomson believes some managers will regret comments they have made about officials this season.
Thomson rejects the notion that whistlers have an agenda for or against against individual clubs.
And he has urged managers to remain calm on the touchline.
"It's important that they show restraint, because it doesn't do their team any favours, nor does it do themselves," Thomson told BBC Scotland.
"It's important that we do build that relationship.
"I think we're coming together a lot closer. We ran a campaign through the Scottish FA to go into every club and speak to every player and every coach last season.
"And, when coaches or manager want us to go in, we'll go and speak to the players.
"That's an important part of the game, because we give them, hopefully, an understanding and an interpretation of the laws of the game."
Referees' relationship with managers is in the national spotlight with while .
At the weekend, after the derby defeat by Dundee United.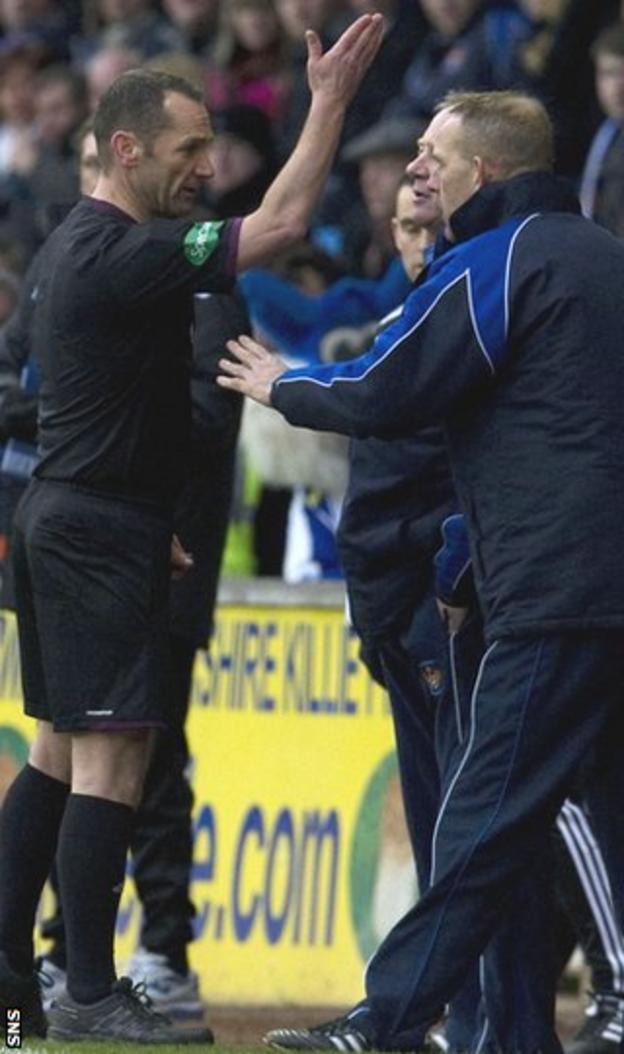 But Thomson, who insists fourth officials should not be regarded as "sounding boards" for managers on the touchline, says referees make themselves available to clarify decisions.
"What you will find with the top referees in Scotland is that they will give the opportunities to the coaches, to the managers to come and speak to them," he explained.
"We're happy for the coaches to come in after the matches, provided that they come in in a reasonable manner and they show the respect, then we're happy to explain that decision.
"I'm not going to say they always agree with our decisions, but I think it's important we're there to explain the decisions to them and I think that will help build up the respect.
"I think certain managers this season will look back on some of their actions and some of their comments with regret, whether it's the end of this season, whether it's in a few years' time.
"But, for us, it's not important, it's the compliance officer that will deal with that. We deal with the games on the pitch.
"I don't think it's getting any worse as such, I think it's always been there. I think it's been highlighted more, but I don't think, generally, their behaviour's got any worse."
The 40-year-old estimates that referees run up to eight miles during a match and feels fitness is key to the job.
"We like to think that, by getting fitter, we reduce our opportunities to make mistakes, but, at the end of the day, we make mistakes," he added.
"Players make mistakes, coaches make mistakes. It's part and parcel of the game.
"What we try to do is limit the amount of mistakes that we do make.
"We have to respect the job that they are doing. What we're looking for is the respect to come back to us.
"Generally, this season, I've been fortunate, I haven't had any problems with any of the coaches - as a large majority of the referees also."