Rafael Benitez can stamp his mark on Chelsea with a win in Japan

By Phil McNulty
Chief football writer
Last updated on .From the section Football245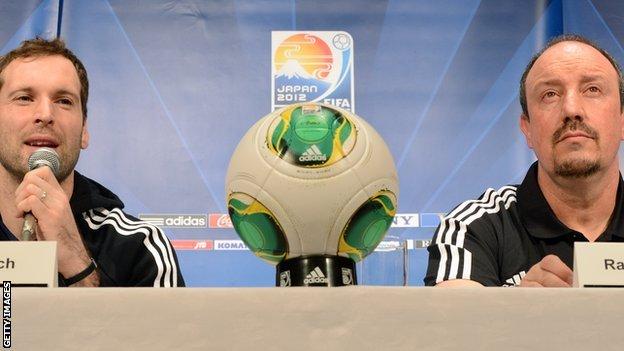 Rafael Benitez flew with Chelsea to Japan for the Club World Cup with a semblance of calm returning to a club seemingly intent on living its life in a constant state of chaos.
The Spaniard, however, is unswerving in his single-minded determination to make an impact at Stamford Bridge and a 6-1 win against Nordsjaelland in the Champions League - even though Chelsea became the first holders to be eliminated at the group stage - and a convincing win at Sunderland have provided some respite.
Add to this the revival of owner Roman Abramovich's £50m pet project Fernando Torres, who has scored four times in those two games, and Benitez could be forgiven for thinking that one or two clouds have started to lift.
So is the fact that Benitez has now taken his new Chelsea squad away from a domestic environment to contest a trophy he won with Inter Milan in 2010 a blessing or a curse as he tries to get his feet under the table at Stamford Bridge?
It may be a double-edged sword. If he fails to claim victory in the competition contested by the champions of all six Fifa confederations it may only invite further criticism from supporters - and if he wins he may struggle to get any credit.
Manchester United manager Sir Alex Ferguson placed a marker mischievously when he claimed Benitez was "very lucky" to inherit the Champions League winners just weeks before the tournament, a similar situation to when he replaced Jose Mourinho at Inter.
Ferguson said: "On his CV he could have two world championships and nothing to do with the construction of either team."
Former Chelsea and England defender Graeme Le Saux understands the context in which Benitez has taken his side to Japan.
He told BBC Sport: "All he would be concerned about now is winning matches. From a practical point of view probably the last thing he wants to be doing is going to the other side of the world and disrupting the domestic season.
"I think he will see it as an opportunity. In terms of the Premier League they can't afford too many more slip ups. The gap between themselves and the leaders could be extended by the time they get back and psychologically that has the potential to have an impact.
"But in terms of the first big step in his career with Chelsea, the Club World Cup will be a great starting point. To come back with that achievement is something he can show to the Chelsea fans and any supporters will welcome trophies.
"There were not too many people saying it was someone else's team when things were not going so well in his first two or three games so he set a positive base with the big win against Nordsjaelland in the Champions League - even though Chelsea went out - and then at Sunderland.
"In Japan, Benitez and the players have now got an opportunity to enjoy the chance to win a tournament that last season's success has brought them."
Le Saux added: "I suppose the reality is that they are going and looking forward to it but I suspect Benitez's mind will be focused on sorting out domestic form because how the team does in the Premier League is the foundation for everything.
"When they get back they are straight into Christmas period. It will also give Benitez a chance to get to know the players even better and just continue to build on what he is trying to do with the shape of the team."
Benitez, understandably, claimed Inter's success as an addition to his own list of trophies as he was in charge when it was won - even though he was sacked shortly afterwards.
And Le Saux echoes the view that coming back from Japan with the Club World Cup is an opportunity to enhance his own reputation among supporters who question his presence at Chelsea.
"You could look at going out to Japan to contest this tournament as potentially a real positive," he said. "It is down to how he deals with it and how the players respond. It is a separate entity and if they come back with a positive frame of mind by winning it then this can only be good for Chelsea, Benitez and for Benitez's standing with the supporters.
"It is new territory for the club and it would be a wonderful sign that things are improving.
"I think the difficulty, which Benitez has been speaking about, is that maybe the glow of winning the Champions League has created a negative reaction in some of the players' minds in the sense that motivation and focus maybe hasn't been where it should be. I can relate to that because that is what happened to us at Blackburn when we won the Premier League."
Le Saux says: "I think the majority of fans will look at the situation and say they will judge any manager on how the team performs and, with Rafa's history in terms of his past with Liverpool and how the fans initially reacted to him, it might take a bit longer but I think he has handled himself well publicly.
"He has been very honest. I think ultimately supporters want to see the team play well but they'd rather be winning games and complaining about the details than just thinking 'this is all doom and gloom'.
"He must be working so hard with the players to educate them to his philosophy and train them to what he wants. These guys have worked with a lot of different coaches and they will take all the best bits, the bits that appeal to them most, from all these people.
"Rafa has got to work with what he's got and what they've got and put his personal imprint on that."
And there will be no better way, in Benitez's mind at least, to add the personal touch to his new Chelsea regime than by coming back with the Club World Cup.