Dundee boss Barry Smith calls for rule probe after derby defeat
Last updated on .From the section Football
Angry Dundee boss Barry Smith called for the advantage rule to be clarified after a controversial penalty set Dundee United on the way to victory.
Referee Willie Collum appeared to allow advantage after a foul on Stuart Armstrong before giving Jon Daly a second chance to beat Rab Douglas.
"Their penalty, is it an advantage or is it a penalty?" asked Smith.
"They got advantage, they missed their chance and then it's brought back for a penalty. They have to clear this up."
Smith said he had been unable to seek an explanation from Collum, who ruled that Armstrong had been pulled down by Gary Irvine before passing to Daly.
"I haven't had the chance and he won't speak to anyone," Smith told BBC Scotland.
"Referees are entitled to do that, but I think it would be a lot better if he could come out and explain his decision.
"We need clarification because it's too big a grey area and it's too important a decision for it to be a grey area."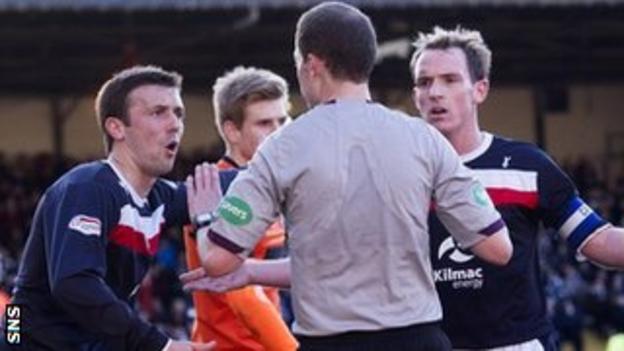 Dundee's players also thought they should have had a penalty when a cross struck the arm of United defender Brian McLean with the visitors leading through Keith Watson's opener.
"I've not seen either of the decisions," admitted Smith, who did not think the strong sunshine would have troubled the referee. "But, at the time, I thought it was a certain penalty.
"Other people have seen it and have said it's a definite penalty.
"We can make a lot of excuses, but the referee's only 10-15 yards away from it and it's not that difficult.
"The referee's had two major decisions to make today and unfortunately he's called both of them wrong."
Dundee's second 3-0 derby defeat of the season leaves Smith's side six points adrift of St Mirren at the bottom of the Scottish Premier League.
"At 1-0 down, we think we were in control of the game in the second half," said Smith.
"We had played a lot of good stuff in the first half.
"Then a major decision against us, we don't get the penalty to make it 1-1 and then another major decision where they get two bites at the cherry.
"Yeh, I'm angry, but then no-one likes getting beat in derbies."
Smith retained confidence that his side could avoid relegation.
"They work their socks off, week-in, week-out," he said. "We do make mistakes.
"But, if we keep giving the level of performances and the work rate is as good as it has been, we'll give ourselves every chance to make sure we're in this league next season.
"It's an important game against Ross County next week and hopefully we get a result up there in Dingwall."